Section 2, part 2
(1) Catherine O. in ME: Blaine, great issue, lots of helpful tips and jokes! Especially enjoyed the T-Shirt and the story that went with it!
(2) Gustavo K. in NC: How much would you pay to have me plunge into ice cold water on Feb 15th and know that 100% of the amount raised will be going to support Meals On Wheels? (http://www.mowabc.org)
The Annual Polar Plunge is a family-friendly event held each year at the Asheville Racquet Club South that features around 30 costumed jumpers taking the icy plunge from the diving board into the outdoor pool – All to support Meals On Wheels!
The music from Get Vocal Entertainment builds our polar bear's courage and gets the crowd excited. You don't know what you'll see! After the plunge, we all get together in the clubhouse and enjoy hot chocolate and a hot soup lunch from our friends at EarthFare. Come join us!
Meals on Wheels Mission – Help for the Homebound
The mission of Meals On Wheels of Asheville-Buncombe County is to provide hot, nutritious meals to the elderly homebound, thus allowing them to live in their own homes, among familiar surroundings and maintain their dignity while aging. 
To donate go to:
http://www.crowdrise.com/2014polarplunge/fundraiser/gustavokolmel
Thank you for your support!
****************
Section 4, Reviews
C. DO YOU BELIEVE IN MAGIC? THE SENSE AND NONSENSE OF ALTERNATIVE MAGIC (Harper Collins) by Paul A. Offit is a book that will get you thinking about an industry that's virtually unregulated.The author, chief of the Division of Infectious Diseases and director of the Vaccine Education Center at the Children's Hospital of Philadelphia, examines numerous treatments that don't work–and explains why. He also gives his opinion on media celebrities  such as Jenny McCarthy, Suzanne Sommers and Dr. Oz.Among the many tidbits that I found interesting:* Although mainstream medicine hasn't found a way to treat dementia or enhance memory, practitioners of alternative medicine claim that they have: ginkgo biloba. As a consequence, ginkgo is one of the ten most commonly used natural products, netting hundreds of millions of dollars a year for the manufacturers. Unfortunately, sales exceed claims. . . . In 2012, a study of more than 2,800 adults found that ginkgo didn't ward off Alzheimer's disease.* One popular homeopathic remedy is oscillococcinum, promoted for the treatment of flu. Homeopaths make oscillococcinum by homogenizing the heart and liver of a Burberry duck, diluting it in water one-hundredthfold, and repeating the hundrethfold dilution two hundred times. A solution this dilute doesn't' contain a single molecule of the Burberry. In fact, the preparation is so dilate that not a single molecule of the duck would be found if the final volume were that of the universe. The duck is one. From a scientist's standpoint, oscillococcinum is one gram of sugar.
And especially this passage:
* In the end, if a medicine works (like folic acid to prevent birth defects), it's valuable, and if it doesn't work (like saw palmetto to shrink prostate), it's not. "There's no name for alternative medicines that work," Says Joe Schwarcz, professor of chemistry and the director of the Office for Science and Society at McGill University. "It's called medicine."
I strongly recommend DO YOU BELIEVE IN MAGIC?, especially if you're open to analyzing claims that have no medical basis to back them up.
D. Heard BUDDHA: A STORY OF ENLIGHTENMENT (BrillianceAudio), written and read by Deepak Chopra.The Introduction caught my attention: "The Buddha was as martial as you and I, yet he attained enlightenment and was raised to the rank of an immortal. The miracle is that he got there, following a heart as human as yours and mine, and just as vulnerable."However, I didn't particularly like what followed. It was a novel (I much prefer Chopra's non-fiction work), and don't feel I learned very much about the Buddha's life–a topic I had been interested in learning more about.The part of the book was the ending, in which the author provides a Q-and-A about the tenets of Buddhism.
**********************************************
Section 12A, NC events
(2) Jeff Thompson: This Monday, James Kylen, Michael Hynes and I will be at it again. As usual, nothing will be as usual. Every show is different!!! Come say hullo, imbibe, and dig some tunage.
Please keep in mind, these shows really do start at 8pm. We aren't doing that thing where we say 8 and then start at 9:30. There's zoning at 5 Walnut that says they have to stop music at 10 on weeknights. Sooo…we really mean it when we say we're starting at 8!
(3) Tuesday, February 4, 2014  at The Hop Ice Cream Cafe, 640 Merimon Ave., Asheville
6:00pm until 7:00pm
| | |
| --- | --- |
| | Ash Devine is a Song Writer and Musical Caring Clown (after traveling with Patch Adams!), who has the gift of cultivating happiness with her performances. We are excited to say that she will be making her return to The Hop for the entertainment of adults, kids and families! |
(4)  Lessons in Leadership: Tuesday, Feb. 25, is the rescheduled date! Harry (the FISH guy) Paul will be the featured speaker. Keith Challenger will be the opening speaker. For more information: http://www.wncleaders.com.
(5) 
(6) Acct. Responsibilities
on Saturday, Feb. 8 at ABTech
This FREE SCORE seminar covers the legal and practical accounting responsibilities that you, as the business owner, must fulfill. How to keep your books and still have time to run your business. What taxes you will be required to pay, forms you need to complete your obligations and the importance of having a properly trained and qualified accounting representative.
Seating is limited, and we will not be accepting registrations at the door, so click the link on the bottom of this page to register.
Doors open at 8:30 AM. The seminar begins at 9:00 AM SHARP. Please arrive at least 15 minutes early to handle paperwork.
This seminar is presented and sponsored by Terresa Carrelli.
To register, please click:
https://events.r20.constantcontact.com/register/eventReg?llr=ebiggxcab&oeidk=a07e8o31upp85a14ff8
(7) And here's one I'm also presenting for Asheville SCORE at ABTech on Saturday, March 8:
Positioning & Marketing
This FREE seminar covers positioning and marketing your business. You've opened your doors. How do you position yourself in the market place and secure that piece of business that you need to survive?
Seating is limited, and we will not be accepting registrations at the door, so click the link on the bottom of this page to register.
Doors open at 8:30 AM.  The seminar begins at 9:00 AM SHARP. Please arrive at least 15 minutes early to handle paperwork.
The presenter for this seminar is Blaine Greenfield
Blaine Greenfield is a former college professor of business who headed his own marketing firm that assisted small- and mid-sized businesses. Presently, he is a volunteer with SCORE and is active with several other community organizations. He also publishes an online newsletter, BLAINESWORLD, that can be obtained for free by emailing him at bginbc@aol.com.
This seminar is sponsored by
To register:
https://events.r20.constantcontact.com/register/eventReg?llr=ebiggxcab&oeidk=a07e8o31val0965d939
(8)
******************
Section 12B, PA/NJ events
(1)
(2) Sing Along with George Sinkler – www.newtownfun.com
Sing along with the man of 5000 songs! "There is nothing more fun than singing timeless songs many of us grew up with," says popular entertainer George Sinkler, who will lead audience members on piano with his fun-loving baritone. With a repertoire from Broadway, to pop standards, to 1950s rock 'n roll, to jazz, George Sinkler has "played practically every restaurant piano in this area" over the last 35 years. Highlights include Odette's in New Hope for 20 years, The Whitemarsh Valley Inn for the last 15 years, Fingers, The Newport House, Limelight in Doylestown, and many others.
Time and Date: 3 to 4 p.m., Sunday, February 16, 2014
#141259
Location: Newtown Twp. Administration Bldg., 100 Municipal Drive, Newtown, PA
Fee: $18 Newtown Resident Discount: $15
(3)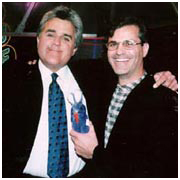 Jay with Dr. Scarpati in 1998.  Jay loved his Comedy Hypnosis Show. WATCH THE DOCTOR HYPNOTIZE A NEWSMAN TO FORGET HIS NAME 
CLICK HERE
    If you want to see some testimonials and a commercial 
CLICK HERE
  His next show is already half way sold out! Buy Tickets for his Comedy Hypnosis Show –
http://comedycabaret.com/
We had some calls to our office asking when Dr. Scarpati's Comedy Hypnosis Show will be in South Jersey.  Sorry the room is not big enough, the only Cabaret that can accomodate his show is the Bucks County Cabaret.  The Feb 8th is sold out and the Feb 22nd date is half-way sold already.   for tickets http://comedycabaret.com/
LOTS OF REALLY GREAT FUNNY SHOWS ON TAP!
BRING YOUR HONEY OUT FOR LAUGHS & LOVE ON VALINTINES EVENING!
CLICK HERE FOR THE TIME OF YOUR LIFE!
*****************************************
Section 12C, National event
Edie Weinstein in PA:
Counting the Days!  A little more than seven days from now, you may find yourself in the company of thousands who could be listening in to a once in a lifetime combination of divine teachers of relationship.  Can you think of anyone who doesn't desire happier, healthier and more fulfilling connections with the people in their lives?  I know that's what you want.  If so, then this is the place to be. Read on and then click on the link that will invite you to sign up. It really is that simple.  Catch you there next week! 
Get the Answers You've Been Looking for.Create Juicy Joyful Relationships in Your Life!
Join 1,000's of People and Get the Keys to The Relationships of Your Dreams .ONE SUMMIT. INSIGHTFUL CONVERSATIONS.THE WORLD'S MOST INSPIRING TEACHERS.VividLife Illumiversity presents…IT'S ALL ABOUT RELATIONSHIPS the e-summitFebruary 7th – 9thRegister Today for Free!Relationships take many forms and in this series, you'll have the opportunity to Learn How to Stop Conflict and Drama and experience more JOY, more HAPPINESS and more LOVE in every aspect of your life.Register NOW! http://illumiversity.vividlife.me/event/relationships/

It's All About Relationships will Live stream Live February 07-09, 2014 For Free and the entire series download will be available Feb 10th including 10 very special bonus gifts for $47.

We have gathered some of the most talented teachers of relationship on the planet.

Deva Premal and Miten

Otto and Susie Collins

Bernie Siegel

Arielle Ford and Brian Hilliard

The Possibility Coaches (Jon Satin and Chris Pattay)

Diana and Richard Daffner

Shasta Townsend

Mali Apple and Joe Dunn

Annie Kagan

Denise and Meadow Linn

Liz Dawn Donahue and Jeff Donahue

Christine Arylo and Noah Martin

SPECIAL OFFER!!!

If you pre-purchase the entire It's All About Relationships Summit Download before Feb 10th it will be available for $27 (a savings of $20) and include all 10 very special bonus gifts (a value of over $100). Offer Expires Sunday February 09 11:59 PM EST.

LEARN HOW TO SURVIVE, THRIVE AND KEEP

ALIVE…JUICY, JOYFUL RELATIONSHIPS!

Register Now!  http://illumiversity.vividlife.me/event/relationships/

Sincerely,

Shayne Traviss, Founder of VividLife.me, VividLife Radio and VividLife Illumiversity  and Edie Weinstein E-summit host, as well as host of the weekly radio show It's All About Relationships

PS. Don't forget… this is a special bonus offer.  For only $27 you get all of these amazing interviews and 10 very special gifts. Limited time offer. Register for It's All About Relationship the summit here!

http://illumiversity.vividlife.me/event/relationships/

This is a dream into reality for me and I am ecstatic for you to join us and others around the world who will be in this virtual classroom. Please share this with your circles as well. Spread the love~