Section 2, part 2
(1) Sandy B. in PA:  Thanks for the video starring Barry Stacy Keach Sysler!  
Barry was one of the first people I met in 1970 when I started working at Bucks Co. Community College.  He was a dashing figure in his white tennis shorts, sparkly blue eyes, slicked back hair and explosive personality.  His laugh would fill the lobby in the Phys. Ed. Building.  He was an 'in your face' kinda guy and so many were a little intimated by him.  He was definitely someone whose side you wanted to be on!  Barry was always up for a good party and he was not afraid to voice his opinion.  He pissed a lot of people off, including my late husband Marty Beeman, but people loved him anyway.  Marty loved him like a brother and I think a lot of had to do with how much they were alike.  In fact they resembled each other – the starry blue eyes, the slicked back hair, the little moustache, the tennis whites, the aggressive behaviors that you either loved or hated.
All I can say is they don't make them like this anymore…..  
No one who knew you will ever forget you.  Rest in Peace.  You were taken too soon but you are in the hands of God.  He gave you a special love, your wife Jody.  You had wonderful children who adored you.   You are loved.
(2) Margie Z. in NC: Well, I never had a candidate fall asleep during an interview (!!) but I did have a fellow from Industry tell me he was looking forward to working in higher ed since he wouldn't have to work so hard.   We were interviewing for a cEnter director and were paying in the 6 figures.  So glad the dean didn't hire him!
But , I did have the provost fall asleep during one if our 1:1 meetings.  Now, I'm never that boring!!  Am I??
Response: Not you, nor me either. Though that said, I did have a student or two fall asleep when I was teaching. What I wanted to do was what my brother once had done to him; i.e., tell everybody to be quiet, then have the class end and then have the next class come in when the student was sleeping. I never quite managed that.
(3) Natalie K. in PA: [THE WOLF OF WALL STREET] It was absolutely depraved.  We missed the end because we had to leave due to snow and a prior dinner engagement.  Had no idea it was so long, but I'm sorry we stayed as long as we did.  I kept thinking "this will be over soon".  It made me nauseous.
(4) Sharon B. in NC:  I have been anxiously awaiting the release of this movie. I have studied with Dr. Bradley Nelson who appears in this movie (he's the first person appearing in the trailer) and truly believe the premise of this film. I don't know if it's in line with what you might recommend in your newsletter, but I thought I'd pass along the information nevertheless. Here's the link. Be sure to watch the trailer. 
(5) Thanks to James Wade who shared the chili recipe that was one of the winning entries in the recent Chili Cook-off at Biltmore Lake. It follows:
Southwestern Chile Verde
Cook time: 3-4 hours
Yield: Serves 10.

 
Ingredients
3 1/2 to 4 pounds pork shoulder (also called pork butt), trimmed of excess fat and cut into 1 to 2-inch cubes (Pork loin is leaner. I use about 1/2 and 1/2 shoulder and loin, if I have it.)
2 Tbsp cooking oil + more as needed
2 slices of bacon (optional)
2 yellow onions, chopped
3 garlic cloves, peeled and finely chopped
2 Tbsp of chopped fresh oregano or 1 Tbsp of dried oregano (Mexican if available, but go lighter with the Mexican. It is intense.)
2 tsp. chili powder
1/4 tsp. cayenne pepper powder (optional, to taste)
1 tsp. paprika
1 tsp. ground cumin
2 to 3 cups chicken stock, plus water as needed
5 to 7, 4 oz. cans of whole green chilies, chopped to bite size (or fresh Anaheim or New Mexico type green chilies.)
1 c. salsa verde (commercial or homemade), optional
Salt and freshly ground black pepper to taste
1 1/2 Tbsp. masa harina for thickening

 
Method
In a large saucepan or pot, render bacon, then add onion and cook until soft adding small amounts of oil as needed to keep from sticking.
Add garlic and cook for a couple of minutes, stirring frequently.
In the meantime in a separate pan, add oil and sear the pork in batches until each batch is browned. Add cooked meat to bacon, onion and garlic and cook for a couple of minutes. Add chicken stock. Stir and allow to cook for 30 minutes.
Add seasoning (oregano, chili powder, cayenne, paprika, and cumin) to mixture.
Add coarsely chopped chilies to the pot.
Simmer until pork is tender and spices absorbed about 3 hours
In a small bowl, mix the masa with 3 Tbs. of water until smooth and stir mixture in to the stew. Cook uncovered until chile verde thickens.
Serve with fresh flour tortillas.
Garnish with cilantro, lime, queso fresco, and/or crema fresca for added flavors.
***************************
Section 4, Reviews
C. THERE'S A BETTER DAY A-COMN': HOW TO FIND THE UPSIDE DURING THE DOWN TIMES (Running Press) by Ronda Rich is a compilation of lessons that the author has learned from both her family and famous people she has encountered.The author, a former award-winning sportswriter, is now a newspaper columnist and gifted storyteller. Among the many tidbits that I enjoyed from this book were the following:* The sin is to settle for less than you want in life. So many people, particularly women, settle for less than what they want in a relationship. As a result, they never have true contentment, peace or happiness. Before you marry someone, ask yourself: "Will I ever wonder if there's anyone better out there? Or is this person who can completely satisfy my heart?"* As Mantle was dying, he took occasion to tell kids to use him as a role model of what not to do in life rather than how to live. It's a story that covers my heart in a reside of sadness. Mantel's accolades, awards and astounding achievements made him one of the country's most famous men, yet at the end of his life, he could not see the good he had accomplished for the dark shadows cast over them by his mistakes and bad choices. Fame and fortune had been his, but peace of mind and satisfaction escaped his gasp.And this advice that I'm going to share with my daughter:
* Here's a simple formula to follow and one that should be taught to children from an early age: Out of every dollar, give away 10 percent and save 10 percent. If you do that, you'll be surprised at how much further the rest of the money goes.
Reading THERE'S A BETTER DAY A-COMIN' felt like I was having a one-on-one conversation with Rich. I now want to read more by her.
D. Heard MOTHERHOOD & HOLLYWOOD: HOW TO GET A JOB LIKE MINE (Random House Audio), written and read by Patricia HeatonThis was a book written by the author in 2002 when she was playing the married-with-kids everymom on EVERYBODY LOVES RAYMOND. In real life, she actually has four boys–all under eight years old.As she notes: "The really important things in life are your family and friends. And what will people say at your funeral–that you won an Emmy once or that you were a good person, kind and generous? Well, as for me, I hope it's the latter. And the fact that I recently commissioned an Emmy-shaped coffin just eliminates the need for anyone to bring it up."What she does bring up in this funny collection of essays are such topics as life, love, marriage, child-rearing, show business, surviving fame and the shame of undearm flab, among other topics. I especially liked her stories of her struggles in New York when she was just beginning her career.Since RAYMOND, Heaton has continued playing a successful mother–this time on THE MIDDLE. I await her next book to find out more about how she seemingly manages to do it all.
*******************************
Section 12A, NC events
(1) [Title of Show] the musical by Performing Arts Laboratory Productions, in part with ACT – runs THURSDAY, FRIDAY, and SATURDAY NIGHTS 7:30pm in 35 Below- 3/6-3/22 – please get your tickets fast, a small house and only 9 performances!
Stars- Isaac Fulk as Jeff
Brad Mercer as Hunter
Kirby Gibson as Susan
Emily Warren as Heidi
Sarah Fowler as "Mary"
[Title of Show] is based off a true event- Jeff and Hunter get an idea to write a NEW musical, in three weeks, for the NYC New Musical Theatre Festival. They start writing, and realize that their story about writing a musical could be a winner, they find some help from their friends and you need to come see what happens next.
Ticket Link:
https://ashevilletheatre.secure.force.com/ticket/#details_a0Si0000002SkMMEA0
For mature audiences only!
(2) Kaleo Wheeler: Hula classes are now happening in Hendersonville —Bring Hawai'i to Your Hips & Aloha to Your Lips— at the Namaste Center in downtown Hendersonville on Friday mornings from 10am – 11am, and another class will be starting at the Opportunity House on Monday evenings from 6:00pm to 7:00 pm beginning February 17.  I expect to have one in Asheville soon as well. Two workshops—Living the Hawaiian Way of the Heart through Grace, Blessing & Gratitude and Balancing the Emotional Kaleidoscope are scheduled through the United Religions Initiative (URI) on March 1 and April 5 at the Namaste Center and a presentation on Hawaiian Storytelling at the 1st Congregational Church on April 6.   You can find out more about all of them at: http://www.kaleowheeler.com/events.
(3) STREETCAR NAMED DESIRE at Hendersonville Little Theatre, Feb. 14-March 2. For more information, please view this excellent clip:
(4) Sally B. in NC: 
Passing this along to the antique lovers among you…
Oddfellow's is having a storewide sale for the next two weeks. Check out the info below.
Sally Butcher
Once More Decor
(5) Lessons in Leadership: Tuesday, Feb. 25, is the rescheduled date! Harry (the FISH guy) Paul will be the featured speaker. Keith Challenger will be the opening speaker. For more information: 
http://www.wncleaders.com
.
(6) GlENGARRY GLEN ROSS
February 13
 at 8:00pm until 
February 22
 at 10:00pm
We are proud to present David Mamet's 1984 Pulitzer Prize Award winning play, Glengarry Glen Ross at the historic Masonic Temple located in beautiful downtown Asheville, NC to help celebrate the thirtieth anniversary of Mamet's Award-winning play.Advanced tickets for the event are $15.00 and are available for pre-sale twenty-four hours prior to the event. Day-of ticket sales are $20.00 and will be available at the box office the day-of the event. At the box office on the day of the event, we will accept cash as well as credit (VISA & Mastercard only) and debit cards via Square.We are also offering a Valentine's Day BOGO Promotion of Buy One Get One half off ($22.50 for two tickets) that is valid both for pre-sale and day-of the event.Doors will open at 7:30pm and the show will begin at 8:00pm and will last to approximately 9:30pm.There is parking available both on the street and across from the Masonic Temple at the Hometrust Bank.Glengarry Glen Ross is a play by David Mamet that won the Pulitzer Prize in 1984. The play shows parts of two days in the lives of four desperate Chicago real estate agents who are prepared to engage in any number of unethical, illegal acts from lies and flattery to bribery, threats, intimidation and burglary to sell undesirable real estate to unwitting prospective buyers. The play draws partly on Mamet's experiences in a Chicago real estate office, where he worked briefly in the late 1960s. The title of the play comes from the names of two of the real estate developments, Glengarry Highlands and Glen Ross Farms, being peddled by the salesmen characters.[2]
The world premiere was at the National Theatre in London on September 21, 1983,[1] where Bill Bryden's production in the Cottesloe was acclaimed as a triumph of ensemble acting.[3]
The play opened on Broadway on March 25, 1984 and closed on February 17, 1985. The production was directed by Gregory Mosher and starred Joe Mantegna, Mike Nussbaum, Robert Prosky, Lane Smith, James Tolkan, Jack Wallace and J. T. Walsh. The production was nominated for four Tony awards including Best Play, Best Director, and two Best Featured Actor nominations for Robert Prosky and Joe Mantegna, who won the production's one Tony.More info and tickets at http://www.brownpapertickets.com/event/550452!
(6) Acct. Responsibilities
on Saturday, Feb. 8 at ABTech
This FREE SCORE seminar covers the legal and practical accounting responsibilities that you, as the business owner, must fulfill. How to keep your books and still have time to run your business. What taxes you will be required to pay, forms you need to complete your obligations and the importance of having a properly trained and qualified accounting representative.
Seating is limited, and we will not be accepting registrations at the door, so click the link on the bottom of this page to register.
Doors open at 8:30 AM. The seminar begins at 9:00 AM SHARP. Please arrive at least 15 minutes early to handle paperwork.
This seminar is presented and sponsored by Terresa Carrelli.
To register, please click:
https://events.r20.constantcontact.com/register/eventReg?llr=ebiggxcab&oeidk=a07e8o31upp85a14ff8
(7)  Love to have you at my upcoming seminar:
Positioning & Marketing
This FREE seminar on Saturday, March 8 covers positioning and marketing your business. You've opened your doors. How do you position yourself in the market place and secure that piece of business that you need to survive?
Seating is limited, and we will not be accepting registrations at the door, so click the link on the bottom of this page to register.
Doors open at 8:30 AM.  The seminar begins at 9:00 AM SHARP. Please arrive at least 15 minutes early to handle paperwork.
The presenter for this seminar is Blaine Greenfield
Blaine Greenfield is a former college professor of business who headed his own marketing firm that assisted small- and mid-sized businesses. Presently, he is a volunteer with SCORE and is active with several other community organizations. He also publishes an online newsletter, BLAINESWORLD, that can be obtained for free by emailing him at bginbc@aol.com.
This seminar is sponsored by
To register:
https://events.r20.constantcontact.com/register/eventReg?llr=ebiggxcab&oeidk=a07e8o31val0965d939
****************************
Section 12B, PA/NJ events
(1)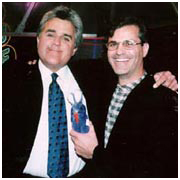 Aren't they cute together! Jay with Dr. Scarpati (aka Andy Scarpati) in 1998.  As you may know Jay played for us early in his career and he was a big fan of the Doctor's Comedy Hypnosis Show. WATCH THE DOCTOR HYPNOTIZE A NEWSMAN TO FORGET HIS NAME – MUST SEE – CLICK HERE    If you want to see some testimonials and a commercial CLICK HERE  His next show is already half way sold out! Buy Tickets for his Comedy Hypnosis Show – http://comedycabaret.com/
We had some calls to our office asking when Dr. Scarpati's Comedy Hypnosis Show will be in South Jersey.  Sorry the room is not big enough, the only Cabaret that can accomodate his show is the Bucks County Cabaret.  The Feb 8th show sold out in record time and the Feb 22nd date is half-way sold already.   for tickets http://comedycabaret.com/ 
BRING YOUR HONEY OUT FOR LAUGHS & LOVE ON VALENTINE'S EVENING!
LOTS OF REALLY GREAT FUNNY SHOWS ON TAP!
(2)
LAUNCHING IN MARCH! Music On Demand! in NewtownHeld in partnership with Newtown Township Parks & Recreation and featuring top musical talent at the Newtown Township Administration Building, located at 100 Municipal Drive in Newtown, PA  Sing Along with George Sinkler
3 to 4:30 p.m Sunday, March 2

*PLEASE NOTE: NEW DATE*

Chase away the winter blues with an energetic singalong where

you

are the show. Bucks County entertainment fixture George Sinkler will lead us through the great songs we grew up with through the decades. Forget all the words? He will be passing out singalong sheets! His goal is to have you walk out the door saying: 'I haven't had that much fun in years!' (Dancing in the aisles allowed)

Program Fee:

$18

Newtown Residents:

$15

Light refreshments will be served

For tickets, call 215-968-2800 x239 or click here COMING NEXT MONTH:Un Viaje Musical (A Musical Journey)

with singing violinist

Claudia Pellegrini

and pianist Mark Yurkanin

3 to 4:30 p.m. Sunday, March 9

For tickets, call

215-968-2800 x239

or

click here

 

 

 
 

TICKETS NOW ON SALEERIC MINTEL QUARTET AT

THE BUCKS COUNTY PLAYHOUSE

8 p.m. Friday, March 7

Click here to order tickets

or

call the Box Office at 215-862-2121

On Demand! Programs and Events

, in association with the

Bucks County Playhouse

, is proud to present the acclaimed

Eric Mintel Quartet

in concert at New Hope's most historic theater. Pianist and composer Eric Mintel, Bucks County's "ambassador of jazz," has been invited to perform twice at the White House and has more than 10 concerts at the Kennedy Center to his credit. The 90-minute concert on March 7 will feature original songs by Eric Mintel; compositions by Mintel's mentor, jazz legend Dave Brubeck; and jazz arrangements of popular tunes by Sting, Coldplay, Aerosmith, and more! Don't miss it!

TICKETS:

$20 for the general public; $15 for groups of 10 or more; $15 for Bucks County Playhouse subscribers. Reserve at (215) 862-2121,

www.bcptheater.org

or by visiting the Box Office at 70 S. Main Street, New Hope, PA.

Check out the new

On Demand! YouTube Channel
(3)
GIVE FROM THE HEART – DONATION-BASED YOGA
Each month we support a local charity with your donations from our
community classes
:
Community Class: Hatha Flow – By Donation
Mondays at 4:15 pm with Monica
Tuesdays at 4:15 pm with Suzette

Wednesdays at 4:15 pm with Monica
Based on asanas or physical poses, this traditional form of yoga helps balance mind, body, and spirit. This class starts with a breathing exercise or pranayama meditation that helps students find their quiet center and prepare for the somatics that follows. Ebb and flow links with the steady paced poses. Students are guided by description, visualization and being "in the moment." The class ends with Savasana, personal time for deep relaxation.
Community Class: Beginner Yoga – By Donation
Thursdays at 4:15 pm with Lesley
The emphasis in this class will be on poses combined with proper breathing, inner awareness and alignment, which will bring about deep changes in one's energy level and release deep psychic blockages. You will be guided to use a non-aggressive approach and moderate pace and avoid injury.
Do you have a local charity you would like us to feature?
Please
contact us
!
---
CHOCOLATE, CUPID, YOGA FOR ALL!
Valentine's Workshop
Heart-Opening Practice
with Shannon Hurley

Friday, February 14, 6:00 pm
"You, yourself, as much as anybody else in the entire universe, deserve your own love and affection." ~ Buddha
Valentine's Day is about celebrating love – all kinds of love. During this flow class, we'll explore heart-opening poses while embracing where we are and what we can
do in the moment. We'll end on a sweet note by celebrating ourselves and our practice with a chocolate meditation.Class is open to all: singles, couples, friends and family. Everyone deserves this opportunity to be love, give love, express love, and receive love.
Princeton Center for Yoga & Health
Orchard Hill Center
88 Orchard Road
Skillman, New Jersey 08558
609-924-7294
(4) 
The Plumstead Historical Society will hold its monthly meeting,
Monday, February 17th, 2014 at 7 PM
Program
: Program will be Show and Tell. Bring an antique/historical item from home.Place to meet: Plumstead Township Office 5186 Stump Road Plumsteadville PA
March 17th, 2014
–
Next meeting
Plumstead Historical SocietyP.O. Box 1725, Plumsteadville, PA 18949
info@plumsteadhistoricalsociety.com
www.plumsteadhistoricalsociety.org
501c3, Founded 2006Also find us on Facebook!