Section 2, part 2
(1) John D. in PA: Was wondering what you thought about this one [ABOUT LAST NIGHT]. We haven't seen it yet.  My wife and I always enjoyed the original with Lowe and Moore. Response: The original was better. I wouldn't rush out to see or even rent this one.
(3) The Sound of Philadelphia Fades Out
http://www.nytimes.com/2014/03/02/opinion/sunday/the-sound-of-philadelphia-fades-out.html?src=me&module=Ribbon&version=origin&region=Header&action=click&contentCollection=Most%20Emailed&pgtype=article
(4) Ilene L. in NC:
Dear Friends and Family,
 As many of you already know, my daughter, Melissa Reina was diagnosed with ocular melanoma last October. To keep the cancer from spreading she lost her left eye. I have tried to remain hopeful and optimistic for her future. However, recently the cancer has spread in her liver. This can be fatal from within 4-8 months from the diagnosis. She is going to Philadelphia for a trial chemo treatment that will hopefully prolong her life. A friend of hers has started a fund raiser for her on Facebook to help her with the overwhelming costs of her medical treatment. The website is
http://www.gofundme.com/77zlnw
.
If any of you could make a donation to help her out, I would be extremely grateful. Also, I believe in the power of positive thinking, so if you can send any positive thoughts or prayers to Melissa, that would be helpful also. She is a young mother of two adorable little children who need their mother. Anything that you can do to help her would be much appreciated.
(6) Bob H. in NJ: 
How kind you are to put Helen's photo in your blog. How kind you are to mention her accomplishments. How kind you are to put in the link to the Packet obit.  For sure you go to heaven because you know how to lift up hearts!  Bravo, my friend!
(7) 
California police use of body cameras cuts violence and complaints
(8) Pat A. in PA: 
Do you ever wonder how your charitable donation money actually helps people in the long run? My daughter Julie will be going to Jamaica on March 15 with students from Manhattan College to work with Mustard Seed Communities, which provides a home for abandoned and disabled children, young adults with disabilities, children who are HIV positive, pregnant teens and their babies. You'll be able to see firsthand how your donation helps these children – one of Julie's jobs on the week-long trip is to film the work that the students do with kids there, and when she is done editing that video she will send it to each one of you who donate. If you can give any small amount to Mustard Seed, go to Julie's page at
http://www.mustardseed.com/site/TR/Events/General?px=1127145&pg=personal&fr_id=1745
 – thank you, you will be happy that you did!
(9) Bob P. in NC: 
28 Beautiful Quotes About Libraries
(10) Bill L. in PA: 
Have you ever seen the movie Hart's War? I saw it yesterday for the first time and thought it was pretty good.
Response: Y
es, when it came out in 2002. I liked it, too, and am now going to have to revisit it based on your recommendation.
(It used to be that I would never want to see a movie again . . . now, if I haven't seen it for a few years, it's like I never saw it before!)
*************************
Section 4, Reviews
C. Malcolm Gladwell has another winner in DAVID AND GOLIATH: UNDERDOGS, MISFITS, AND THE ART OF BATTLING GIANTS (Little, Brown and Company).
In his latest effort, the author follows the format of his previous bestsellers–THE TIPPING POINT, BLIK, OUTLIERS and WHAT THE DOG SAW–and uses history, psychology and story-telling to get us to look at the world differently.
He points out that what looks like suffering and adversity to others can actually work out to somebody else's advantage, using such examples as the following:
* According to research done by Mitchell Change of the University of California, the likelihood of someone completing a STEM degree–all things being equal, rises by 2 percentage points for every 10-point decrease in the university's average SAT score. The smarter your peers, the dumber you feel; the dumber you feel, the more likely you are to drop out of science.
* Law school, of course, required even more reading. But [David] Boies discovered that there were summaries of the major cases–guides that would boil down the key point of a long Supreme Court opinion to a page or so. Plus, he was a good listener. "Listening," he says, "is something I've been doing essentially all my life. I learned to do it because that was the only way I could learn."
And:
* The reason most police departments around the world haven't followed Jaffe's lead is that she did didn't seem right Johnnie Jones was a bad kid. Buying food and toys for people like him seems like the worst form of liberal indulgence. If the police chief in your town announced, in the face of a major crime wave, that she was going to start hugging and feeding the families of the criminals roaming the streets, you'd be speechless–right?
DAVID AND GOLIATH has me looking forward to Gladwell's next book. I only wish that it would come out sooner, rather than later.
D. Heard WELCOME TO YOUR CRISIS: HOW TO USE THE POWER OF CRISIS TO CREATE THE LIFE YOU WANT (Time Warner AudioBooks), written and read by Laura Day.
As the author points out, "Rock bottom can be the best place to start." Through a series of useful exercises, she shows how best to move forward. Among the many useful suggestions I gained from listening were these:
* Crisis is an opportunity for dramatic, positive change.
* Change can be an effective tool to take you to the next level of joy, productively, creativity and success.
* No life is crisis proof, but any life can be less crisis prone.
So as a result of WELCOME TO YOUR CRISIS, I'm not looking forward to such a development in my life. But I will be better prepared to handle it, especially if I follow this great bit of advice:
* Have a day where everybody spoils you!
********************************************
Section 11, Thought for the day
Arta S. in PA: I thought of you when I read this article. [Also, ] I appreciate that you notice those who have done great things!
Recognition Worth Noticing by Angela Maiers in SWITCH & SHIFT*
As a writer, educator, and lover of learning and life, I make it a habit to notice people. Whether I am in the classroom or in a business, I notice everyone I meet, and I let him or her know it.
No one interacts with me for more than 15 seconds without being asked for a name. I don't need the trained eye of a detective to notice that a custodian is whistling happily while cleaning, or that a receptionist has a particularly melodious voice, or that the person I'm meeting with seems harried, and I comment genuinely in each case.
My most faithful companion is my writer's notebook. I jot down observations about the people I meet and the incredible lessons I learn from them. Importantly, I then share these observations with them, and let them know I appreciate what they said or did, or the way they said it or did it, and how important it was to our work together.
This practice started when I taught in an elementary school classroom. If I failed to notice that a student had her bangs cut or had lost a tooth or gotten a new pair of sneakers, they would not engage with me until I did. On the other hand, if I whispered to a student that I noticed she was working hard and making progress with her reading, her confidence rocketed for weeks. Unfortunately, as students advance to higher grades, they are noticed less, unless they misbehave. It's no wonder that so many of them do.
Kids are not the only ones who struggle and strive to be noticed. Adults spend a lot of time trying to get noticed as well. There is a real-time counter on the web that shows the number of new posts, likes, comments, and updates posted every second. Look at it for five seconds. What are all these Internet users seeking? They are trying to be noticed. The web is not a data stream. The web is a life stream. The significance of our lives is dependent on how other people see us.
What are all these Internet users seeking? They are trying to be noticed. The web is not a data stream. The web is a life stream.
Whatever our vocation, everyone single one of us has a chance to tell people:
"Your cheeriness sets a tone for the whole office."
"Thank you for the way you handled that matter."
"I appreciate the effort you've been putting in the past few weeks."
"I'm sorry for the trouble you've been going through."
I know what some of you are thinking:
"People are paid to do their job. If they do it well, they get a raise, and if they don't, they get cut loose. I'm not here to play therapist and make them feel good about doing the job they're paid to do."
How's that working out for you?
What if you carried a notebook? What if you made it a point to make note of what you notice? How indispensable it was, how genius it was, how significant it was?
To put it in stark business terms, how much would it cost you to notice someone and share your appreciation? How much time would it take out of your day? I will tell you what I know for sure, after 25 years of noticing diligently: it changes people. It can change an entire culture.
Start with your family and other loves ones. Extend it to your workplace. Next, try it with every single person you interact with – or could interact with, if you lifted your nose out of your phone.
After 25 years of noticing diligently: it changes people. It can change an entire culture.
Learn from my friend Tim McDonald, who noticed a homeless man that he passes on the way to work each day, and learned a valuable leadership lesson. Use your eyes.
Use your ears. Use all your senses. Notice people. Tell them what you noticed. Let them know how essential they are. Make sure they know they matter. Watch how it changes others. Cherish how it changes you.
* Reprinted withe gracious permission of SWITCH & SHIFT.
*******************
Section 12A, NC events
(1) 3rd Annual Asheville Talent Slam!: A Benefit for Eblen Charities Saturday, March 29, 2014 
 7:00pm
| | |
| --- | --- |
| | 6pm doors, 7pm show. $10 ADV, $15 day of show. ALL AGES. Limited seating available.http://bioflyer.wordpress.com/bioflyer/asheville-sing-slam/This annual event is a very exciting contest (similar to America's Got Talent and X Factor) bringing together a wonderful diversity of many unique local acts—songwriters, singers, dancers, and much more, all getting great regional exposure by showcasing their abilities. Cash prizes are awarded: $500 for first place, $300 for second place, and $200 for third place, plus $50 gift certificates for 3rd, 4th, and 5th places. Contestants will also receive professional feedback from local celebrity judges. The event is a benefit for Eblen Charities. |
(2) 
(3) Casting call (thanks, Steph Hickling Beckman, for sharing)
Now In Progress
Action/Adventure/Romantic/Comedy Asheville, North Carolina ***Local talent only*** With or without experience. Self produced photos OK. Reply to info@regal-arts.com
WHITEY – (lead) white male 20s (role cast "Miles Rice") LIANNA – (lead) Hispanic female 20s (busker performing as statue) DALLAS – black male 20s (male lead's sidekick, sells illegal guns) LUCIA – Hispanic female 30s – 40s (psychic) COP – black male 20s (Cop trying to hookup with lead's girlfriend) MONGOOSE – white male 50s – 60s (old magician, male lead's mentor) MATEO – Hispanic male 30s – 40s (head bad guy, drug dealer) PACO – Hispanic male 20s (bad guy) JORGE – Hispanic male 20s (bad guy) ENRIQUE – Hispanic male 30s (jewelry store owner) JENNI – Hispanic female 20s (female lead's sidekick) RAY – albino male 20s – 50s (sells illegal guns) ROBBER – black male 20s (robber) CHINESE WOMAN – Chinese female 50s – 60s (restaurant owner)
---
(4) The Know Your Orchestra! Voucher Program encourages students to become acquainted with classical music and their home orchestra. Each voucher admits one student and one friend or sibling for free. Accompanying adults and any other additional friends or siblings will be admitted for $10.00 each. This offer is good for only the Asheville Symphony Masterworks concert listed on this voucher: Ma rch 15, 2014 Beethoven a nd The Romantic Good for 2 FREE student tickets, each additional ticket just $10! Call 828.254.7046 to get your tickets Good for 2 FREE student tickets, each additional ticket just $10! Call 828.254.7046 to get your tickets The Know Your Orchestra! Voucher Program encourages students to become acquainted with classical music and their home orchestra. Each voucher admits one student and one friend or sibling for free. Accompanying adults and any other additional friends or siblings will be admitted for $10.00 each. This offer is good for only the Asheville Symphony Masterworks concert listed on this voucher. Note: Voucher would not print. If you are in need of one, send an email to: 
bginbc@aol.com and put VOUCHER in the subject line. 
(5) PAL Productions Presents: [Title of Show] The Musical Thursday, March 6, 2014 – Saturday, March 22, 2014 7:30pm 35 Below 35 E Walnut Street Asheville, NC Shows Thursday, Friday, and Saturday nights at 7:30pm at 35Below (Asheville Community Theatre) in Downtown Asheville. 3/6-3/22 Tickets are $15
https://ashevilletheatre.secure.force.com/ticket/#details_a0Si0000002SkMMEA0
Cast: Jeff – Isaac Fulk Hunter – Brad Mercier Susan – Kirby Gibson Heidi – Emily Warren Accompanied by – Sarah Fowler Directed by – Daniel Hensley
*************************
Section 12B, PA/NJ events
(1) Sing Along with George Sinkler – Including lots of Irish songs for St Pat's! Chase away the winter blues with an energetic singalong where you are the show. Bucks County entertainment fixture George Sinkler will lead us through the great songs we grew up with through the decades. Forget all the words? He will be passing out special singalong sheets! His goal is to have you walk out the door saying: 'I haven't had that much fun in years!' (Dancing in the aisles allowed). Light Refreshments. Time and Date: 3 to 4:30 p.m., Sunday, March 16, 2014 *Please note new date #141259 Location: Newtown Twp. Administration Bldg., 100 Municipal Drive, Newtown, PA (Just off Durham Rd=Rt. 413, on the north side of Newtown) Fee: $18 Newtown Resident Discount: $15 Direct ticketing link: http://newtownfun.com/info/activities/program_details.aspx?ProgramID=29678
(2) SUNDAY, MARCH 9 11:00 A.M. – 12:00 P.M. Morristown, NJ Newtown's Team 26 Cyclists Ride to Washington, D.C. From March 8 to 11, Newtown's Team 26 will ride from Newtown to Washington, D.C. to honor all victims of gun violence, support stronger gun violence prevention laws and to spread their message of peace, hope and love along the way.  On Sunday, they will make a stop at Morristown's Town Hall.  We hope that many of you will be able to join us as we greet and cheer on the riders.  Bring welcoming signs along with your organizations' banners!  Elected officials have also been invited.  We believe that Rep. Rush Holt will attend.  Maura Sherlach, a New Jersey resident whose mother Mary Sherlach was the school psychologist killed in the Sandy Hook Elementary School shooting, will be speaking.  Please see this article  http://www.newstimes.com/default/article/Newtown-s-Team-26-cyclists-ride-to-bring-message-5278403.php If anyone from the Mercer County area would like to carpool to Morristown, let me know. It takes a little over an hour from Ewing.   I'll be going and hope to grab some lunch afterward with some other GVP supporters.  Would enjoy some company! The cyclists will be heading to Doylestown, PA, after leaving Morristown.  So if you cannot make it to the only stop in New Jersey, maybe you can catch them across the Delaware!  Tell your PA family/friends also. Carole Stiller President, Mercer County Million Mom March Chapter President, NJ Million Mom March Chapters of the Brady Campaign to Prevent Gun Violence P.O. Box 77333 Ewing, NJ 08628mercermmm@gmail.com609-882-3711www.millionmommarch.org/chapters
(3)
DR. SCARPATI WILL BE A GUEST ON WIP RADIO THIS THRSDSAY 5:20 AM TO TALK HYPNOSIS!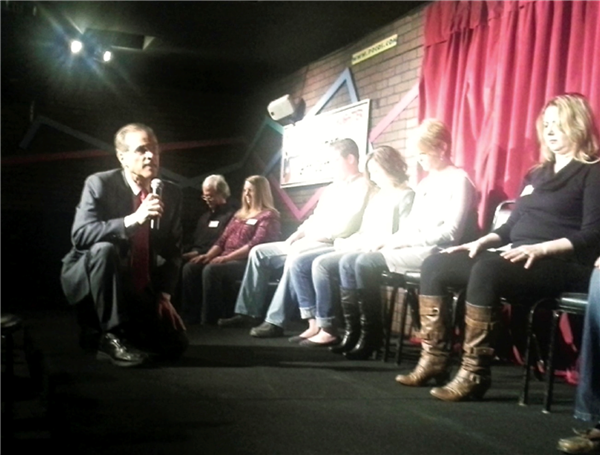 Here is a picture from his sold out show last Sat. as he is guiding the volunteers into hypnosis. See Crazy Fans Chase Doctor at Live Comedy Cabaret Show! CLICK HERE! His next Show is Sat. March 22nd.JUST BOOKED – OVER 20 TIMES ON THE TONIGHT SHOW – MITCH FATEL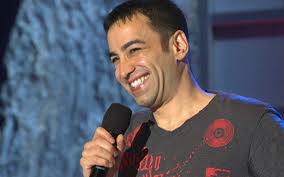 MITCH FATEL WILL BE IN NORTHEAST PHILLY SA T. MARCH 22nd TICKETS AND INFO  http://comedycabaret.com/ Thanks so much for laughing with us and we will see you at the show!
(4) 
What Every Artist & Arts Organization Needs to Know About Employment Law
  What Every Artist & Arts Organization, presented by Joey Novick
Needs to Know About Employment Law!
This wonderful interactive presentation will provide a working overview of all the laws that cover:
* Individual artists as employees and independent contractors
* Arts & Cultural organizations in their roles as employers.
Your questions will be answered about:
What are the differences between "The employee" and "The independent contractor"?
What are the rules for "unpaid interns"?
What should be (and not be!) in an employment contract?
What are the important issues for employment regarding intellectual property?
Workplace discrimination, workplace harassment, leave laws, disability and religious accommodation issues, non-compete agreements, and much much more!
You will leave with an ACTION PLAN for issues involving employment law and the arts! Where: Seton Hall School of Law  Newark, NJ 1 Newark Center, Newark, NJ 07102 When: Wednesday March 19th, 2014   6:30pm Cost: $25.o0 per person (includes seminar material)  Limited scholarships available; Please contact director@njvla.org for scholarship information. CLICK HERE TO REGISTER (or) https://www.paypal.com/us/cgi-bin/webscr?cmd=_flow&SESSION=zneiCcNO4_3qc7FGvjsMV9US_tZ5_04xH1dJDZxkQfVpmWQyPnrbNhYENpa&dispatch=50a222a57771920b6a3d7b606239e4d529b525e0b7e69bf0224adecfb0124e9b61f737ba21b081982546798d23b9808f2b0faaf533a5dbe5
(5) Celebrating BCCC's 50th Anniversary in Bucks County 
We are looking  forward to another great outing! 
Hope to see you there.
           10:00   Registration, Driving Range, Putting Green
           10:30 – 11:30 Luncheon
           Noon    Shotgun Start Scramble Format
           5 p.m.   Cocktail Reception, Dinner, Awards,
                           and Student Speaker
Proceeds benefit student scholarships,
as well as other innovative campus projects and programs.
Jericho's cart path policy
will be relaxed for our outing.
(6)