Section 2, part 2
(1) Brian H. in NJ: The "Find X" joke is one of the funniest I can remember. Thanks for the reminder.
(2) Pat L. in CA: You know I always love your jokes–they are just off-the-charts funny and almost always ones I have never heard before–but your "Find x" was SO-O-O-O-O hilarious!!!  I'll be laughing for days over that one!!!  [maybe it's the teacher connection that gets to me!!] All the best to you and yours–we seem to have skipped winter altogether this year in CA–I am hearing of a possible El Nino next year — and for CA I say, "Hurray!!!"
Note to both Brian and Pat (and the rest of y'all): For other great test answers, click: http://tinyurl.com/mrmjazu
(3) Mary Beth K. in PA: I just saw a movie over the weekend called The Best Offer.  I don't recall ever seeing it on your reviews list but that doesn't mean you didn't see it.  If you haven't, I suggest you check it out. I think you will enjoy it.
(4) John D. in PA: That [dog dying from chocolate] was truly sad to read about.
(5) Natalie K. in PA: Wanted to let you know we saw a great movie on Netflix last week which I think you recommended  – can't remember if you did.  If you didn't, I highly recommend you get it.  It's the Magic of Belle Isle with Morgan Freeman.  Very touching and well done film.
(6) Henry W. in NY: The annual Film Society of Lincoln Center's Rendez-vous with French Cinema is underway. Saw an exquisite film. The Gilded Cage, about a middle-aged, working-class, Portuguese couple, living in Paris for the past 30 years, who suddenly inherit a family-owned winery in their homeland. Do they remain in Paris among their friends, family and co-workers or do they return to their native Portugal? Tough choice!
(7) Alyson M. in CO: 7 Ways Marketers Should Be Using Twitter
http://kimgarst.com/7-ways-marketers-should-be-using-twitter
*****************
Section 4, Reviews 
A. ENDLESS LOVE, a remake of a 1981 film with the same name, surprised me, in that it was highly watchable though oh-so-predictable . . . two teens fall in love with each other, but the father of one of them wants to keep them apart–and he does . . . Alex Pettyfer and Gabriella Wilde are fine as the leading couple, though he is about the oldest-looking recent high school graduate I've ever seen . . . Bruce Greenwood was terrific in the villain role; i.e., the nasty father . . . rated PG-13. 

B. 12 YEARS A SLAVE is now out on DVD . . . my review from BLAINESWORLD #893 follows:
12 YEARS A SLAVE is based on the true story of Solomon Northup, a New York State citizen who was kidnapped and made to work on a plantation in New Orleans in the 1800s. Chiwetel Ejiofor is brilliant as Northup, and I also  admired the work of Michael Fassbender as the plantation master from hell. Steve McQueen is to be commended for co-writing the script with John Ridley, as well as for directing this film–though I think some of the scenes were a bit long. Be forewarned: This is not an easy film to watch because of the many scenes involving brutality. Rated R.
C. Be forewarned: The following book review is not unbiased, in that I'm writing about a good friend and his lovely family.That said, let me strongly recommend LOVING LIFE LESSONS FOR MY DAUGHTERS (Pygmalion Publishing) by Brian D. Biro.
The author, before his older daughter's wedding and the beginning of his younger daughter's senior year in college,  put together a series of principles that he has learned from a lifetime of successes and failures. They are presented in a series of short lessons–each no more than a few pages–that to quote, "is my legacy of love to you both . . .  [that] you may pass on to your children so that the enormous love with which it's written will live on."
Among them:
* In my seminars, I have asked thousands of people a truly eye-opening question: "Who are the people in our lives who we tend to forget to thank the most?" Almost without exception, the answer is the people to whom we are the closest, those we love the most. Over time, we can easily begin to take them for granted. . . . How do we keep those feelings [of appreciation] alive and well? The secret is to become a "Word-Class Buddy Thanker!"
* The best way to work with your energy is to think of it in relation to a ten-point scale. On that scale, one is comatose! Ten is the energy level you two had on Christmas morning when you two were little girls! The billion dollar question is, "On that scale from one to ten, were are you living your life?" Now that's a great question!And perhaps my favorite:
* Recently, I heard this simple statement: "Be easy to impress and hard to offend" on a radio interview and was instantly struck by its extraordinary vision. So much happiness and wonder is missed by those who are difficult to impress. And so much anger, resentment, and indignation will never materialize and infect the lives of those who are hard to offend.
LOVING LIFE LESSONS also contains several letters that Biro has written both daughters over the years, as well as beautiful photos of this entire family that added to my enjoyment of the book.
D. Heard BULLSEYE: AN ORIGINAL WILL ROBIE/CAMEL CLUB SHORT STORY (Hachette Audio), written by David Baldacci and narrated by Ron McLarty.
It is an entertaining, quick read that pairs two of Baldacci's favorite characters: Will Robbie and Oliver Stone, accompanied by a band of the latter's Camel Club.They find themselves together in a bank that's soon entered by several masked people.
The security guard's throat is slit and when everybody is locked together in a storeroom, it soon becomes apparent that the intruders want more than just money.The only thing that would have made BULLSEYE even better would have been had it been expanded into a full-length novel.
**************************************
Section 12A, NC events (1)
Leadership Asheville will be accepting applications for our LA 33 class from now until Friday, May 23rd. We encourage you to consider participating in this renowned community leadership development program! The primary aim of LA 33 is to strengthen participants' knowledge of, commitment to, and involvement in collaborative community leadership. Graduates complete the program with an increased capacity to contribute as effective leaders, a strong connection to the Leadership Asheville network, and a greater knowledge of their community. For more information, 
Click Here for the LA 33 Program Brochure.
Or if you are ready to apply for LA 33, please download the forms below and pay close attention to the application instructions: 1 – 
LA 33 Application
2 – 
LA 33 Commitment Statement
3 – 
LA 33 Financial Assistance Request Form
 (if applicable)
We hope you'll consider applying!
Sincerely,
The Leadership Asheville Team
(2) Upcoming FREE seminars, presented by Asheville SCORE
(1) Location, Location, Location
Saturday, March 15 from 9 a.m. to 12 p.m.
ABTech Enka Campus
1459 Sandhill Rd.
Small Business Center, Room 2046
Candler, NC 28715
This FREE seminar covers how to secure the best location for your business. Brick and Mortar requires a solid knowledge of the physical location AND the nature of your market. Doors open at 8:30 AM.  The seminar begins at 9:00 AM SHARP. Please arrive at least 15 minutes early to handle paperwork. This seminar is presented by: Gifford This seminar is sponsored by Wells Fargo. Seating is limited, and we will not be accepting registrations at the door, so click here to register:
https://events.r20.constantcontact.com/register/eventReg?llr=ebiggxcab&oeidk=a07e8o32r4p254aeb85
(2) What You Don't Know Can Hurt You
Saturday, March 22 from 9 a.m. to 12 p.m.
ABTech Enka Campus
1459 Sandhill Rd.
Small Business Center, Room 2046
Candler, NC 28715
This FREE seminar covers legal issues, employment policies and other laws that affect your business. You, as the owner, must adhere to government policies against discrimination, sexual harassment, and hiring illegal aliens. You must also understand the differences between employee and contractor. We will also review entities once again to ensure your choice is the right one. Doors open at 8:30 AM.  The seminar begins at 9:00 AM SHARP. Please arrive at least 15 minutes early to handle paperwork. This seminar is presented by: Marjorie Maginnis This seminar is sponsored by: MMS. Seating is limited, and we will not be accepting registrations at the door, so click here to register:
(3)
Registration Deadline for Asheville: March 17

Join Us March 21-23 in Asheville!

Are you…

craving new skills and knowledge?
seeking solutions to heal yourself?
highly sensitive and becoming more so?
desiring a spiritually fulfilling relationship?

Then you've got to get involved in Inception Point Therapy now! We all need inspiration at times, and rarely do we find it by doing what we've already done. Change happens when you make it happen!

If you're looking to make a positive change in your life, meet great people, and reconnect to Source, join Cheryl for a weekend of healing, learning, and fun.

Located in beautiful Asheville, this workshop will feed your soul – and your senses.

What is Inception Point Therapy?

Based on our ever-present connection to Source, IPT attunes your body to this energy and shows you how to use it to resolve old emotional patterns in an entirely new and delightfully thorough way. Learn more.

Over the course of the weekend, you'll experience deep meditation to reconnect you to Source, processes to heal your emotional and physical body, and the opportunity to enhance your intuitive abilities.

And whether you're a practitioner or simply wish to receive healing, this is a weekend you'll enjoy. 

Join us!


3 day experience

~$395~

Registration closes

3/17/14

March 21-23, 2014

Friday : 6:00-9:00pm
Saturday : 9:00am-5:00pm

Sunday : 9:00am-5:00pm

Next offerings:

June 6-8, 2014

in Boca Raton, FL

Level 1 Workshop includes:

"Going Within" Meditation CD
Course Manual
2.5 days of instruction, demonstration, & practice
Certificate : Inception Point Practitioner
(4)  
The Counseling Center
690 Boyd Rd. * Leicester, NC 28748
Phone: (828)-683-6900 * Fax: (828)-683-0303
www.HypnoWisdom.com   * info@hypnowisdom.com 
Hypnosis Certification Training
Upcoming Hypnosis Certification Course:
1st Weekend: Thursday, April 10th – Sunday, April 13th (9:30am – 6:30pm)
2nd weekend: Friday, May 2nd – Sunday, May 4th (9:30am – 6:30pm)
The National Guild of Hypnotists has been preparing people for 40 years to successfully help others through Hypnotherapy – and also to have a very successful hypnotherapy business. This course will provide you with the skills you need to become a successful hypnotherapist and meet the 75-hour training requirements to receive the National Guild of Hypnotists' Certification. This is an intensive and comprehensive training program that gives you everything you need to succeed in this career. All classes are conducted using the NGH's core-curriculum and teaching materials providing you with a complete classical approach to hypnosis, which enables each participant to work with weight problems, smoking cessation and stress management for both individuals and groups.
The training at the CounselingCenter is based on 20 years of research, proven behavioral programs and the clinical approach of Sarah Gewanter, MSW, LCSW. The approach taken provides the opportunity for each participant to gain confidence by practicing with other students. The primary objective is for you to learn all aspects of hypnosis and its applications in as thorough, complete and scholarly a manner possible.
Course H 201
Date: TBA
Fee: $ 2000.00
Materials fee:  $225.00
Sarah Gewanter, MSW, LCSW is the Clinical Director of The Counseling Center just outside Asheville, NC.  She is a practicing and licensed psychotherapist, social worker and hypnotherapist with over 30-years experience. She is certified and sponsored by the National Guild of Hypnotists.
Advanced Hypnosis Training: An Integrative Approach
This 25-30 hour course provides a program of integrating hypnosis and other therapeutic, metaphysical and spiritual approaches. We will review and practice advanced hypnotic techniques, learn how to handle special situations and incorporate meditation and clinical approaches. This course is open to those who have completed the NGH Hypnosis Certification Training course successfully. Please contact instructor for more details about the course and scheduling. Note, if you sign up and pay for the Advanced at the same time as the Basic Course receive a 20% reduction in the fee for the Advanced Course.
Course H 201 Advanced Level
Fee: $ 1500.00
Private Instruction and/or Supervision also available
Private and confidential sessions are available for those who would like a more intensive one-to-one approach for the purpose of improving your skills, learning other advanced techniques or moving forward in your own personal growth process.
     Fee: $100.00 per hour 
    By appointment
(5)
TBI/Concussion Open House Announcement
March…Not only for four leaf clovers and corned beef!
Come join us for an informative evening on the chronic management of traumatic brain injury and concussion, and some innovative strategies for dealing with these issues that are often forgotten or overlooked.
Seating is limited and reservations are required for attendance.  Please call the number below to reserve your seat/s.
Light refreshments will be served.
Where: Apex Brain Centers
When: Thursday, March 20
Time: 5:00 – 7:00 pm
Free QEEG/Brain Map and Report of Findings…

…For one lucky event attendee to gain valuable insight into the inner workings of their brain.  Must be signed in at the event to be eligible for the drawing and the winner will be contacted via email on Friday 03/21/14.

Value of offer: $500 – No Cash Value
(6)
March 6-22, 2014; Thursdays, Fridays, and Saturdays at 7:30 pm at 35below
A musical about writing a musical! When two young writers race to create a new musical in just three weeks to meet a festival deadline, they must navigate creative differences and commercial success. This love letter to musical theatre and the joy of collaboration is brimming with wit and enthusiasm!
Note: Above is now playing at 35below. I recently saw and loved it.
*****************
Section 12B, PA/NJ events
(1) Deanna Trust invites you … A Spring Workshop on Feng Shui & Dowsing At her beautiful woodland home in Denville, NJ…along the magical path…to the portal on the fairy ring, connecting to the heightened energies of the elementals. You will… Take a day long dive into the ancient art and science of Feng Shui  Dowsing Learn to work with the pendulums  divining rods Determine weak areas of your home and detrimental energies, if they exist Remedy or clear them with Feng Shui cures and dowsing techniques Enhance your self-awareness, quality of life  the spiritual IQ of your home Bonus! Deanna will work with the student's floor plans and the Map of Consciousness About the program… This is a One-Day Workshop from 10 am to 4 pm. Please choose any one of the following dates: Saturday, April 12  Saturday, May 17  Saturday, June 14 Program fee: $180 All checks should be made to Deanna Trust and mailed to 192 Casterline Road, Denville, NJ 07834 or Pay atwww.chase.com/quickpay to Deanna S. Trust All paid registrations paid prior to March 31, 2014 awarded a 10% discount. Dowsing tools will be available for purchase. Experience is not necessary. Beginners are especially welcome. It will be a magical and transformative day… A delicious lunch served…
(2)
MARCH 22nd  MITCH FATEL & DR. SCARPATI'S COMEDY HYPNOSIS SHOW!OVER 20 TIMES ON THE TONIGHT SHOW – MITCH FATEL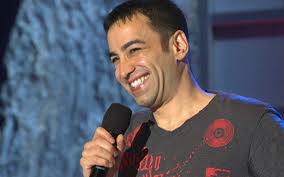 MITCH FATEL WILL BE IN NORTHEAST PHILLY SAT. MARCH 22nd

See Crazy Fans Chase Doctor at Live Comedy Cabaret Show! CLICK HERE! BUY TICKETS FOR SAT. MARCH 22nd  http://comedycabaret.com/ If you'd like to hear Dr. Scarpati's appearance on WIP RADIO – just email back and we would be happy to send it directly to you. (The file is too big for this mass email) Also – NEW SELF-HYPNOSIS & MEDITATION SEMINAR  HERE!Hey, BOB NELSON FANS – SAT APRIL 12th he is in BUCKS! Thanks so much for laughing with us and we will see you at the show!
(3) PLUMSTEAD HISTORICAL SOCIETY
Founded 2006
P.O. Box 172
Plumsteadville, PA 18949
Dear Neighbors & Members:
The Plumstead Historical Society will hold its monthly meeting,Monday, March 17, 2014 at 7 PM 
Place to meet: Plumstead Township Municipal Building, 5186 Stump Road, Plumsteadville, PA 18949
Program:
Kathy Auerbach will share her extensive knowledge about the Stover family. 
Future Meeeting: April 21, 2014 
Join the Plumstead Historical Society!
$10 for individuals or $15 for family to the P.O. Box 172 address.
Do you need a great gift idea?We have a collection of 10 different postcards split between 2 packs of 5 postcards. Each pack sells for $5.00 ($1 per post card). The collection is available for purchase at our meetings and make great holiday gifts.
Do you have historic items to donate? (pictures, letters, stories, local tools or books, research on a property or family, etc), please contact us. We now own a fire safe to archive and protect our growing collection of historic items. 
All are welcome; you don't have to be a member to attend! Feel free to bring family or friends to this and any event or meeting.
If you should have any questions or an interesting story to share, please contact me at rinfo@plumsteadhistoricalsociety.org
Plumstead Historical Society invites you to come join us in support of the preservation of our township history.
Plumstead Historical Society
P.O. Box 172, Plumsteadville, PA 18949
info@plumsteadhistoricalsociety.org
www.plumsteadhistoricalsociety.org
501c3, Founded 2006
Also find us on Facebook!
 ********************
Section 12C, National event
If a man wants to be treated like a leader, he needs to dress like one.
With that in mind, we have invited Lori Wynne, a nationally known wardrobe and image consultant, to discuss men's wardrobe options. In addition to discussing the "Five Keys to a Leadership Look", she will be available to take your questions.
The one-hour webinar will take place at noon on March 20. If you're interested, please email us at speech@speechworks.net. We'll send you the webinar's call-in information.
Lori owns of Fashion With Flair (
www.fashionwithflair.com
) which focuses on helping business people look their best. While she is now based in Atlanta, she started her business ten years ago in Boston and has clients all over the nation. This webinar will focus on men's wardrobe options for the workplace. Hope you can make it for this fun, free event. At Speechworks we help our clients learn how to communicate in a way that connects and persuades. If you're interested in becoming a great communicator give us a call at 404-266-0888 or check out our website at
http://www.speechworks.net