Section 2, Part 2
(1) Karen M. in NJ: [In photos] you are looking fine, Blaine, but Cynthia's photos in your last few newsletters are looking younger and more stunning than ever!  You must be treating her well!!! Happy Purim to you, too.  Nosh some hamentashen.
(2) Linda K. in PA: Great picture of you and Cynthia!!!
(3) Art F. in PA: How do you allow the table of contents to go down to its destination?  Thus, Joke 3 when clicked, goes to Joke 3 in the text. I can't get my html to perform this.
Response: Magic! (Just kidding.) Try this link for an explanation:
http://www.w3schools.com/html/html_links.asp
If too complicated, ask somebody else to help you–probably a local teenager. Where I got help: From Constant Contact. That's the company I use to for my mailings.
(4) Jean R. in PA: Thanks for all the great photos and comments you put together.
(5) Michelle B. in NC: So many good things listed!!! And thank you for the shout outs.
(6) Steve G. in PA:  Agreed, like the photo of you and Cynthia. Lots.
(7) Julien in MD: Married life definitely agrees with you both; beautiful picture!!!
(8) Wendy A. in PA: "Ilana is participating in UDance at the University of Delaware, a fundraiser to support the B+ Positive Foundation and raise money to find a cure for childhood cancer. you can help her and the foundation by making a donation to UDance!
Any amount will make a difference in a child's life!
https://www.udancede.org/udance2014/partpage.aspx?participantid=128952
(9) Edie W. in PA: My friend Blaine Greenfield sent me this article I wrote nearly 3 years ago with a quote from his wife Cynthia that inspired it.
http://www.beliefnet.com/columnists/blissblog/2011/06/savor-this-experience.html#C8VRrHowyVlobYU0.99
(10) Mary C. in NC: Thumb way up [on GRAND BUDAPEST HOTEL]. Very clever writing and directing. Quirky. Funny! Go see it. Early show or it's too crowded.
Don't get upset when the guy kills the cat. Pay close attention to details. Write down quotable lines, like when he goes to see the corpse
****************
Section 11, Thought for the day
Note: Variations of the following story have a mother and daughter saying goodbye, but when I researched it, I found that the actual story involved a father and daughter–and was written by Bob Perks. So I contacted Bob, and he graciously gave me permission to run it in BLAINESWORLD. It follows:
The Story
Bob wrote this story after watching a father and daughter say goodbye at an airport. Although the story resonates in the hearts of millions who have had to face similar such moments in their lives, the true message in this story comes in the "Seven Wishes." With permission from the author, those words have been read at graduations, weddings, funerals, awards ceremonies and even engraved on a grave stone.
"I Wish You Enough!"©
by Bob Perks
I never really thought that I'd spend as much time in airports as I do. I don't know why. I always wanted to be famous and that would mean lots of travel. But I'm not famous, yet I do see more than my share of airports.
I love them and I hate them. I love them because of the people I get to watch. But they are also the same reason why I hate airports. It all comes down to "hello" and "goodbye. "I must have mentioned this a few times while writing my stories for you.
I have great difficulties with saying goodbye. Even as I write this I am experiencing that pounding sensation in my heart. If I am watching such a scene in a movie I am affected so much that I need to sit up and take a few deep breaths. So when faced with a challenge in my life I have been known to go to our local airport and watch people say goodbye. I figure nothing that is happening to me at the time could be as bad as having to say goodbye.
Watching people cling to each other, crying, and holding each other in that last embrace makes me appreciate what I have even more. Seeing them finally pull apart, extending their arms until the tips of their fingers are the last to let go, is an image that stays forefront in my mind throughout the day.
On one of my recent business trips, when I arrived at the counter to check in, the woman said, "How are you today?" I replied, "I am missing my wife already and I haven't even said goodbye."
She then looked at my ticket and began to ask, "How long will you…Oh, my God. You will only be gone three days!" We all laughed. My problem was I still had to say goodbye.
But I learn from goodbye moments, too.
Recently I overheard a father and daughter in their last moments together.
They had announced her departure and standing near the security gate, they hugged and he said, "I love you. I wish you enough." She in turn said,
"Daddy, our life together has been more than enough. Your love is all I ever needed. I wish you enough, too, Daddy."
They kissed and she left. He walked over toward the window where I was seated. Standing there I could see he wanted and needed to cry. I tried not to intrude on his privacy, but he welcomed me in by asking, "Did you ever say goodbye to someone knowing it would be forever?"
"Yes, I have," I replied. Saying that brought back memories I had of expressing my love and appreciation for all my Dad had done for me.
Recognizing that his days were limited, I took the time to tell him face to face how much he meant to me.
So I knew what this man experiencing.
"Forgive me for asking, but why is this a forever goodbye?" I asked.
"I am old and she lives much too far away. I have challenges ahead and the reality is, the next trip back would be for my funeral," he said.
"When you were saying goodbye I heard you say, "I wish you enough." May I ask what that means?"
He began to smile. "That's a wish that has been handed down from other generations. My parents used to say it to everyone." He paused for a moment and looking up as if trying to remember it in detail, he smiled even more. "When we said 'I wish you enough,' we were wanting the other person to have a life filled with just enough good things to sustain them," he continued and then turning toward me he shared the following as if he were reciting it from memory.
"I wish you enough sun to keep your attitude bright.
I wish you enough rain to appreciate the sun more.
I wish you enough happiness to keep your spirit alive.
I wish you enough pain so that the smallest joys in life appear much bigger.
I wish you enough gain to satisfy your wanting.
I wish you enough loss to appreciate all that you possess.
I wish enough 'Hello's' to get you through the final 'Goodbye.' "
He then began to sob and walked away.
My friends, I wish you enough!
Bob Perks
For more information, please visit Bob's website:
http://www.iwishyouenough.com/index.html
*******************************
Section 12A, NC events
(1) Third Annual Asheville Talent Slam: A Benefit for Eblen Charities
6pm doors, 7pm show. $10 ADV, $15 day of show. ALL AGES. Limited seating available.
http://bioflyer.wordpress.com/bioflyer/asheville-sing-slam/
This annual event is a very exciting contest (similar to America's Got Talent and X Factor) bringing together a wonderful diversity of many unique local acts—songwriters, singers, dancers, and much more, all getting great regional exposure by showcasing their abilities. Cash prizes are awarded: $500 for first place, $300 for second place, and $200 for third place, plus $50 gift certificates for 3rd, 4th, and 5th places. TALENT MUST REGISTER BY MARCH 22nd. The event is a benefit for Eblen Charities. CLICK "BIOFLYER" LINK ABOVE FOR INFO.
Note: Hear Bock Eblen, the event's organizer, on Jeff Messer's radio show by clicking:
(2) Majo John Madden: Friends –
As our poetry concert starts to draw close, Tracey and I are getting more and more energized – and more focused on the amazing music that will take this show from wonderful to unforgettable.
Our poetry will certainly be the centerpiece of the show.  Tracey's poetry is gorgeous and her performance haunting.  I'm honestly bringing a red-hot set of poetry, ranging from emotionally powerful to outrageous.  But music takes poetry to a land of emotion and color that the words by themselves can never achieve – and the music at this concert is going to be extraordinary.
Our "house band" will be four exceptional players: Joshua Messick on hammer dulcimer, Peter Levitov on handpan drum, Matthew Cox on tablas and Michael Ivey on electric guitar.
At my job yesterday (cashiering at Earth Fare), I mentioned to a young woman customer that I would be working with a hammer dulcimer player. She got very animated: "Joshua Messick?" "Yes." "I saw him in concert last night at the White Horse Black Mountain and he is amazing!" I had seen a poster for this concert and asked, "Was he playing with Peter Levitov?" She got even more excited: "Peter Levitov is awesome – that handpan drum he plays puts out a sound you will never forget. If these two guys are playing with you, nothing could keep me away from this concert." Another customer later on said, "Peter Levitov and good poetry – I'm definitely coming."
Watch this video and you will be a believer in the handpan drum: https://www.youtube.com/watch?v=8Qi6Syodr0M
I am really excited to see where these gifted players take me as a performance poet. And Tracey loves to work with musicians, so she will be on fire.
I have also recruited three of my own favorite local musicians to help me with four poems that need exactly what they bring.
Robert Thomas, an extremely gifted pianist with many fans in this town, will bring a lush romantic accompaniment to my signature love poem – and a sweet lyrical partnering with my surprise musical ending.

Daniel Barber, one of Asheville's top African drummers, adds his hard-driving djimbe to a poem that I call "a wild romp through the dark side".

Tony Godwin, with his fiery acoustic guitar, will be a perfect musical partner on a high-attitude, in-your-face poem that is as close to rock 'n roll as I'll ever get.
If I haven't already convinced you to come, call me so you can hear in my voice just how excited I am about this, what a special event it's going to be. When we see each other afterwards, it will be so much more fun to jump up and down together and say, "That was so amazing!!" than to say, "Sorry I missed it." (And, if you just absolutely can't make it, talk with me about the CD, because this is being professionally recorded and there will be one.)
For all the details, click on the link to our Facebook event page, underneath our photo below.
Lots of love – and hope to see you three weeks from today!
Majo John Madden
828-582-9822
heymajo@gmail.com
With my poetry partner Tracey Schmidt
Sunday, April 6, 3 p.m, doors open at 2:30
Jubilee, 46 Wall St.
advance sale tickets $12 at Malaprop's (cash or check only), at Jubilee on 3/30 and 4/6, or by contacting me.  At the door $15
(3) 
2 upcoming FREE seminars from ASheville SCORE
(1) What You Don't Know Can Hurt You
Saturday, March 22 from 9 a.m. to 12 p.m.
ABTech Enka Campus
1459 Sandhill Rd.
Small Business Center, Room 2046
Candler, NC
This FREE seminar covers legal issues, employment policies and other laws that affect your business.
You, as the owner, must adhere to government policies against discrimination, sexual harassment, and hiring illegal aliens. You must also understand the differences between employee and contractor.
We will also review entities once again to ensure your choice is the right one.
Doors open at 8:30 AM.  The seminar begins at 9:00 AM SHARP. Please arrive at least 15 minutes early to handle paperwork.
This seminar is presented by: Marjorie Maginnis
This seminar is sponsored by: MMS.
Seating is limited, and we will not be accepting registrations at the door, so click here to register:
https://events.r20.constantcontact.com/register/eventReg?llr=ebiggxcab&oeidk=a07e8o32rci74192bfb
(2) Selling in the 21st Century
Saturday, March 29 from 9 a.m. to 12 p.m.
ABTech Enka Campus
1459 Sandhill Rd.
Small Business Center, Room 2046
Candler, NC
This FREE seminar covers modern selling strategies and techniques. Old style "high-pressure" sales doesn't work anymore. We will introduce you to the right way to present yourself and your product.
Doors open at 8:30 AM.  The seminar begins at 9:00 AM SHARP. Please arrive at least 15 minutes early to handle paperwork.
This seminar is sponsored by: HomeTrust Bank
Seating is limited, and we will not be accepting registrations at the door, so click here to register:
https://events.r20.constantcontact.com/register/eventReg?llr=ebiggxcab&oeidk=a07e8o3bjwjb3cf28ad   
(4) Living Healthy with Chronic Conditions at Osher Life Learning Institute
CRN: 20094
Course Dates: Mar. 28, Apr. 4, (no class on Apr. 11), 18, 25, May 2, 9, 2014
Course Times: 9-11:30 a.m. (we will dismiss in time for Fab Fridays)
Instructor: Nancy Bragg and Sue Lerner
Term: 2014 Spring
If you (or a loved one) live with chronic health conditions (e.g. heart disease, arthritis, diabetes, depression, asthma, or others), put fear, denial or passivity aside and engage in this course!  Learn and practice ways to manage physical/mental health concerns and partner with health care providers.  Class sessions include lectures, brainstorming, group problem solving, and individual action plans.  Build confidence in taking charge of your health and your life!   Materials fee: $30suggested donation for book and relaxation CD to be paid to the instructors at the first class.
Nancy Bragg (njbragg1@gmail.com) has had arthritis since age twenty-two. She enjoys yoga, NIA, and learning.  As an educator and lifecoach, Nancy supports people in taking action to enhance their lives.   Sue Lerner (sklerner@lightforminc.com) has a BSN from the University of Maryland, an MA degree in education from Seton Hall University, and national certification in wound care.  She has taught numerous classes and presented papers at national meetings.  Both Nancy and Sue have co-facilitated several sessions of Living Healthy with Chronic Conditions in the Asheville area.
For the registration form, please click:
http://olliasheville.com/sites/olliasheville.com/files/Forms/OLLI_spring14_web_registration.pdf
(5)
LGBT Caregiver Education Forum
Join us Wednesday, April 16, 2014 to learn about signs of caregiver stress and coping techniques. Hear caregivers share their personal experiences and strategies to enhance a support system.
Wednesday, April 16, 2014
4:00PM – 6:30PM
Land of Sky Regional Council
339 Leicester Highway, Asheville, NC
Continuing education hours (2.0) will be provided for social workers, adult care home administrators and CNA's.
To register, contact kdmoore@alz.org or 800.272.3900.
(6) Bruce Lang at Cork and Crown, 37 South Main St., Mars Hill, NC, on Saturday night, March 22, at 7 p.m.
***********************
Section 12B, PA/NJ events
(1)
Living As God- Advanced Class Saturday 4/12 NJ
When we understand divine perspective and live from this place, the world and every part of our life makes sense and works.
Living in the world and not of it, gives you peace, joy, confidence, compassion and increased energy to be fully alive and active and happy, fully engaged with life.
Learn to live the teachings you have read about. All of the spiritual practices and learning you have worked with will be raised higher in this class.
In this class we learn how to live our spiritual practice in everyday life.
Taking the tools and teachings to a deeper level of experience we live in the world and not of it. Advanced teachings to make the divine real in every moment and be free. Past students of Janet StraightArrow welcome.
Full Day session 10AM to 5PM, $ 175 prepaid by 4/4. $200. after.
Checks to Be The Medicine 18 Bank St, Morristown, NJ 07960. Credit by PayPal use donate button on home page of http://www.bethemedicine.com. Questions Janetoasis@aol.com This is a first level class with more to follow.Join us, or call Janet for a private session to live the higher truths, heal and be happy. 973-647-2500
Monthly Spiritual Salon at Oasis NJ 4/17 3rd Thursdays
Join Janet StraightArrow for an evening of high energy and enlightenment. Deep meditation followed by spiritual teachings and sharing and more inner journeys with themes perfect for the group and night.
Each session is unique, practical, spiritual and life changing.
Bring a notebook and be ready to relax, receive and become more you. $40. Bring a friend or family member and receive $10 off. RSVP 973-647-2500
(2) Dr. Scarpati's Self-Hypnosis and Mediation Seminar
EXPERIENCE RELAXING SELF-HYPNOSIS & MEDITATION
Great Relaxing Positive Seminars
Starting Wednesday, March 26th @ 7pm
Wednesday Night @ 7pm @ Comedy Cabaret above Poco's Restaurant
625 North Main Street; Doylestown PA 18901
* Self-Hypnosis & Meditation Seminar for Relaxation and Positivity (You will love this seminar)
If you are not 100% satisfied with this seminar we will refund your admission fee.
Dr. Scarpati will briefly discuss basic causes of stress and you will learn some simple, effective techniques to keep yourself feeling relaxed and confident. He will answer any questions you may have. The Doctor will tailor the session to the needs of the group. He will lead you through a wonderful, guided relaxation to help you DE-stress, let go, and feel positive and confident. (see his clinical website Click here)
Admission fee is $10, Doors open at 6:30pm. The seminar will end at approximately 8:15pm.
DATES: MARCH 26th, April 2nd, 9th,
To reserve, all you need to do is email your first and last name to dr.scarpati@comcast.net and we will send you back a confirmation and you can simply pay at the door. It is that easy.
Other seminars coming…
• Success with Self Hypnosis…• Finding your Soul Mate  • Stop Smoking
Also:
 Kevin on the set of King of Queens with Cabaret owner Scarpati.
LOOK what he just sent us:
THE BEST AUDIENCE participation show EVER!! 
In NORTHEAST ON SAT. -OVER 20 TIMES ON THE TONIGHT SHOW –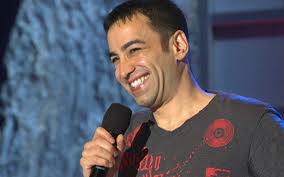 MITCH FATEL WILL BE IN NORTHEAST PHILLY
Tickets –
http://comedycabaret.com/cms/

Also – SOMETHING NEW & DIFFERENT SELF-HYPNOSIS & MEDITATION SEMINAR  HERE!
Hey, BOB NELSON FANS – SAT APRIL 12th he is in BUCKS!
(3) Joni D. in PA: I will be in the ensemble for Neshaminy Valley Music Theatre's production of "Anything Goes."
Come out and see this fabulous show.
Performance dates are April 4, 5, 11 & 12, 2014 (Fridays-8PM/Saturdays-3PM & 8PM) at Neshaminy High School,
2001 Old Lincoln Highway, Langhorne, PA 19047.
Adult Tickets $20     Senior/Student Tickets $17    All seats general admission
(4) 
PA Coalition for Peace Action will be co-sponsoring "Solving Today's Nuclear Nightmares" at
Drexel University
on
Wednesday, April 23 12:00-1:30 PM
.  The event will be featuring
Joe Cirincione,
President, Ploughshares Fund and author the new book, Nuclear Nightmares: Securing The World Before It Is Too Late. 
Solving Today's Nuclear Nightmares
Wednesday, April 23
12:00 – 1:30PM
Free lunch* and talk with:
Joe Cirincione
President, Ploughshares Fund and author of the
new
book,
Nuclear Nightmares

Brief Bio:  Joe Cirincione has worked with the Center for American Progress, a progressive think-tank, and has written numerous books, including Bomb Scare, on the history of nuclear weapons.  He is currently President of Ploughshares Fund, and teaches at Georgetown University. His new book will be available for purchase and signing at the Drexel event, co-sponsored by Office of International Programs. This is part of CFPA's campaign to inform students and the public, not just of the problems of nuclear weapons– but of their solutions.  This is especially important given immediate crises with nuclear powers, such as Russia and the threat to Ukrainian peace and security.
Drexel University
Papadakis Science Building, Auditorium 112
3245 Chestnut St, Philadelphia
To *
RSVP for free lunch
, and/or for more information, contact
Ed Aguilar, PA Director, Coalition for Peace Action
eaa.pna@gmail.com
This e-mail address is being protected from spambots. You need JavaScript enabled to view it or (215)-480-7744
Click here
for the official flyer.
********************************
Section 12, National event 
Note: You can register by clicking this link: