Section 2, part 2
(1) Declan S. in MA: A Startlingly Simple Theory About the Missing Malaysia Airlines Jet
http://www.wired.com/2014/03/mh370-electrical-fire/
(2) Michelle B. in NC: I have never been [to Frankie Bones] until now – thanks to your pic – YUMMMMMM!!!!!
(3) Natalie K. in PA: Saw "Enough Said" [film with Julia Louis-Dreyfus and in one of his last role,  James Gandolfini] last night. Really liked it.
(4) Marcie F. in PA: That [highlighted videos in last issue] was great. I'm still sniffling!

(5) Chanah M. in MO: THE BIG WEDDING is one of the funniest movies I have ever seen.
(6) Dan B. in PA: My wife and I watch all the DWS shows. I like to vote. I have 26 email addresses.
(7) Carole S. in NJ: NATIONAL VOLUNTEER WEEK
OF COURSE we would LOVE IT if you signed up to volunteer with the NJ MILLION MOM MARCH CHAPTERS this week!
But please consider volunteering with some worthwhile organization in your area. There are so many organizations doing wonderful work. And we could ALL use your help. Plus you won't find anything more rewarding for so little time invested. Decide to volunteer today!
With the NJ MILLION MOM MARCH CHAPTERS, we can offer you a variety of opportunities to share your strengths and interests.
Perhaps you like talking to people. You could volunteer to assist us at NJ MILLION MOM MARCH CHAPTERS tabling events distributing gun violence prevention materials. A commitment of a mere hour of your time could mean the difference between parents knowing that they need to ASK if there is a gun in the home where they send their children to play and a terrible tragedy. If there is a gun, is it unloaded and stored properly with the ammunition stored separately? If not, maybe those parents should invite their children's friends to play at their house instead. It only takes a minute to possibly save a life.
Maybe you enjoy working on legislative issues. We can always use volunteers to call or write to their Congressman and/or state legislators. And if you have a half a day that you can spare every once in a while, join the NJ MILLION MOM MARCH CHAPTERS when testimony is needed at the State House in Trenton when gun violence prevention bills are being considered. We can provide talking points if you need help.
Are you a "social" butterfly? We can really use your help with social media. Maybe you'd enjoy designing a Facebook page, setting up a twitter account, texting an ACTION message to our supporters. If you have time to pass on a joke, you have time to pass on a life-saving piece of information. Many times the NJ MILLION MOM MARCH CHAPTERS receive urgent messages from the Brady Campaign and we currently have no one to pass these messages along via social media.
Although most of our NJ MILLION MOM MARCH CHAPTERS have brochures providing Victims' Resources, we also want to give victims/survivors our personal attention as well. We organize events to bring survivors together, let them know that they are not alone, and that they have not been forgotten. Whether designing t-shirts with gun violence prevention messages, planting a tree in remembrance, or ringing a bell for each victim of gun violence, we want to remind them that we are here for them. Do you have other ideas how we can offer our support?
Through our EMPOWERING TEENS AGAINST GUN VIOLENCE brochures, the NJ MILLION MOM MARCH CHAPTERS urge them to SPEAK UP if they hear of a threat of a gun being brought to school. Before babysitting, they are prompted to ASK if there is an unlocked gun in the home where they are sitting. Many teens are in a domestic violence situation where a gun is in the mix; there is somewhere they can turn. We provide activities such as SHOOT HOOPS – NOT GUNS to let them know there are better things they can do with their time than to turn to guns. Teens and young adults are encouraged to VOLUNTEER with us also — teens listen to other teens! Would you like to learn how to speak with youth groups in your area? Can you pass our name along to youth organizations that you know?
If you already volunteer your time with another organization, hopefully you will introduce the NJ MILLION MOM MARCH CHAPTERS to that group. We ALL need to work together to fight gun violence. There is strength in numbers. Girl Scouts, Boy Scouts, PTA, faith-based organizations, violence against women prevention groups, boy's and girls' clubs, mens' organizations, women's organizations. Volunteer your space to co-sponsor a screening of either LIVING FOR 32 <http://livingfor32.com&gt; or SHELL SHOCKED <http://www.shellshockeddoc.com&gt;. Invite us to your next meeting so we can tell you how we can work together, because only together can we make a difference!
And lastly, whether or not you have any time to volunteer, please consider supporting the NJ MILLION MOM MARCH CHAPTERS financially. Donations are not tax deductible, but we are an all-volunteer organization and live by donations alone. No paid staff means that every dollar donated goes directly into our gun violence prevention materials. And we can stretch a dollar like you can't believe! But we need your support. To make it easy, checks may be made payable to MILLON MOM MARCH with a specific NJ MMM Chapter shown on the memo line and sent to
MILLION MOM MARCH
P.O. Box 77333
EWING, NJ 08628
Once the check is received, the funds will be forwarded to the designated NJ MMM Chapter. If there is no NJ MMM Chapter designated, the funds will be used throughout the state where needed. As President of the NJ MILLION MOM MARCH CHAPTERS, one of my duties is to cover the counties where we do not have active Chapters. If you would like to assist with the forming of a Chapter in your area, please contact me. Following are our active Chapters:
Bergen/Passaic MMM Chapter Monmouth/Ocean MMM Chapter COMING SOON:
Essex County MMM Chapter Sussex County MMM Chapter Warren County MMM Chapter
Mercer County MMM Chapter Union County MMM Chapter
Whether you have an hour, a few minutes, or a check book…the NJ MILLION MOM MARCH CHAPTERS can use your support.
PLEASE VOLUNTEER.
THANK YOU, Carole
(8) Barbara B. in NC (looking for somebody in the Asheville area):
Short-Term Roommate Wanted; Could Lead to Long-Term
Move in anytime between June 1 and August 1;  4-7 month rental, possibly longer.  Seeking one mature, considerate, responsible, high-integrity adult male or female townhome mate to move into one room of my 3 BR 2 BA 1300 square foot townhome with outdoor patio, W/D and wood burning fireplace.  I'm looking for someone who's also a conscious communicator, easy going, pays the rent on time and loves cats. Non-smoker, no drugs, no pets, as I have max allowed with the two cats ;-)). Bonus would be someone handy around the house. I'm on city bus line and 10 minute walk to UNCA. Walking distance to downtown Asheville; quiet, mature, professional and retiree community.
About me: I'm a warm and fun professional female solopreneur who works out of the home during the week unless I'm traveling out of town. Hobbies: jogging, cooking, hiking, painting, creative writing, yoga, reading, dancing, learning, travel, spiritual growth and going out in downtown Asheville! I'm an early to bed/early to rise sort who loves and appreciates quiet, though also loves music. I love a good glass of wine or two a few times a week and have the occasional (early) weekend gathering of friends. I'm relatively neat though certainly not anal about this. If after chatting on the phone we think there could be a good roomie fit, let's meet for coffee, and then if it still feels like a good fit I can show you the space .
$625 / month which includes utilities: electricity, central heat and air, wireless internet, water/sewage/garbage/recycling.
Barbara Brady
Coach & Trainer
Global Leadership / Intercultural / Transformation through Transition
barbara@mycoachbarbara.com
www.mycoachbarbara.com
828-350-9300
***************
Section 4, Reviews
A. FACE OF LOVE is the story of a widow who, after the death of her husband, meets a man who looks exactly like her deceased husband. They begin a sweet romance that is hidden from most of the others in their past lives. Annette Bening and Ed Harris are terrific in the leading roles, and Robin Williams does a nice job in a supporting turn. This probably won't be around long in theatres, so catch it when you can. Rated PG-13.
B. AUGUST: OSAGE COUNTY is now out in DVD format . . . my review from BLAINESWORLD #906 follows:
If you ever thought your family was dysfunctional, think again. And then see AUGUST: OSAGE COUNTY. It's a dark drama about a mother and her three daughters that will hold your attention because of the fine acting, especially from Meryl Streep and Julia Roberts. One bit of warning: It's definitely not a comedy even though some reviews have called it that. Rated R.
C. THE GREAT WORK OF YOUR LIFE: A GUIDE FOR THE JOURNEY TO YOUR TRUE CALLING (Bantam Books) by Stephen Cope discusses the concept of dharma–or realizing your life's true purpose.
According to the author, director of the Kripalu Institute for Extraordinary Living, you must determine this purpose in order to have a fulfilling life. He contends that the secret to doing this can be found in the pages of a 2,000 year-old-spiritual allegory called the BHAGAVID GITA.
He makes this tale come alive by using the lives of such well-known individuals as Walt Whitman, John Keats and Susan B. Anthony, along with everyday stories. I especially liked Cope's example of Jane Goodall, in which she discussed how important her mother was in her success: "I had a mother who not only tolerated but also encouraged my passion for nature and animals and who, even more important, taught me to believe in myself."
What a great way to raise any child!
D. Heard INFINITE SELF: 33 STEPS TO RECLAIMING YOUR INFINITE POWER (Nightingale-Conant), written and read by Stuart Wilde.The author, a lecturer and author of 10 books on spirituality and awareness, presents practical steps for reclaiming your inner power. In doing so, he helps you develop such beliefs as the following:
* I accept negativity as learning experience and transmute it into an opportunity for growth.
* I am the master of my own destiny.
* I judge nothing. I quantify noting.
* I have no need to defend my will or force my views.
* My energy is my message. I don't preach, I don't seek followers.
* I do not invest energy in things that don't resonate for me.
Wilde has a breezy style in presenting this material that even utilizes some humor. In addition, he incorporate several exercises throughout the book–including this one that I found particularly helpful: At night, as you go to sleep, review your day in reverse.
************************************
Section 12A, NC events
Note: See actual newsletter for information about (1) My presentation on April 23; and (2) Walk a Mile event on May 3.
(3) Majo M. in NC: Asheville Community Theater is about to start a three-week run of the hysterically funny comedy Dearly Departed.  This locally beloved play has been performed three times at Jubilee – the last time with yours truly playing the title role.  Don't let the fact that Bud, the nasty patriarch of the clan, "departs" in the first three minutes of the play and has no lines fool you – this role has tremendous dramatic depth.  Terry Kirkpatrick, you have deep shoes to fill.
The ACT version of the play features several hilarious actors from the Jubilee productions and the intensely admired retired director of the Jubilee Players, Lauren Fortuna.  ("We would follow her anywhere" is what most of us used to say.)
Don't miss it.
(4) 
(5)
CLOSE TIES by Elizabeth Diggs
OPENS FRIDAY, April 11, 2014 @ 7:30pm
An unforgettable summer is in store when three generations of a quirky, dysfunctional family gather at a country home and realize they are still learning how to deal with life's cycle of changes.  An exceptionally heart-warming play that touches on the dynamics of family. Directed by Sy Berg, the cast includes Martha Hogenboom and Cheryl Anders (shown above), as well as Christina Velderman, Ashley Wellman, Veronica Brown, Scott Lothrop, Arden Avery and Luke Johnson.
Make your reservations today! Call 828-692-1082 or by tickets online at
www.hendersonvillelittletheatre.org
The play will be presented Thursdays, Fridays, Saturdays @ 7:30 and Sundays @ 2:00 — April 11-13, 17-20, and 24-27.
(6) Bruce Lang upcoming performances:
The Omni Grove Park Inn's Great Hall with "The B's" (Bill Covington, Byron Hedgepeth, Bruce Lang)
Every Tuesday, Wednesday & Thursday 7:00 – 10:00

Cedric's Tavern at Biltmore

Friday, April 4 Monday May 19 6:00 – 9:00

Antler Hill Village at Biltmore

Solo: Mondays April 7 & 14 May 26 3:00 -7:45

Quintet: Friday April 25 4:00 – 8:45 *featuring brother Billy Lang on drums!

Biltmore Blooms The Duo with Steve Trismen in the Winter Garden of The Biltmore House

Saturday April 12 10:00AM – 2:30PM

Seasons Restaurant at Highland Lake Inn

 Flat Rock, NC

reservations suggested: 828-696-9094

Sunday Brunch, April 6, 13, 27 May 18, 25 11:00 – 2:00

Mother's Day Brunch, Sunday, May 11

Cork & Crown Main Street Mars Hill

Saturday April 12 7:00 – 9:00

Nature's Corner Country Store in Beautiful Downtown Barnardsville!

Tailgate Market; Tuesday April 15 3:30 – 5:00

(6) ELLEN PAPPAS (who sings with the Reuter Center Singers) is inviting you to see her and six other magical singers perform a musical revue being presented at NC Stage on May 2, 3 and 4, 2014.

Seven Singers and a Songwriter is a Cabaret style concert. There's no plot, no fancy set, no orchestra, and virtually no dialogue – just a bare stage, empty except for a piano and a few stool, upon which these talented vocalists will work their magic. 

The songs run the gamut from romantic ballads to comedy numbers to Broadway-style production numbers to character songs to philosophical pieces.  The music is by Dave Bates who has produced musical theater in New York, North Carolina and other venues.

Come.  We promise a dazzling evening.

Note: I'm looking forward to this event, largely because two of my favorite performers will be in it: Bradshaw Call and Katherine Sandoval Taylor.

(7) 

(9) 

Note: I've seen this black comedy and recommend it. The performances were all excellent, as was the direction. It runs through April 19 at 35below. For tickets, please click:
***************
Section 12B, PA/NJ/NY events
(1) Free BCCC Prof. Freeman Newtown Bookshop Event for Poetry Month and in Support of the new BCCC Pamela Perkins Frederick Schalarship
                                                                            Meet the Author, Jim Freeman;
one final, "Spring" 2014 event:The Newtown Bookshope,
April 12, Saturday afternoon, 1 pm to 2:15pm. Call Kathy Morrison at (215) 968-2400 for details of this
free book launch/discussion of the writing biz, "write your life memoir
talk," reading, and celebration!   A
free event with refreshments and drink.
Come one, come all to the new space and ownership with same kind of
quality inventory that we've come to expect from the Newtown Bookshope…
(2) Chandler S. in NY (who will also be appearing in this show):
(3) 
THE ERIC MINTEL QUARTET Mother's Day Concert at the Razz Room in New Hope–Jazz pianist and composer Eric Mintel performed at the White House for President Clinton in 1998 and for President and First Lady Obama in 2011. A Bucks County-based musician, Eric has sold out area venues regularly. The Eric Mintel Quartet is currently touring in support of their 10th CD, "Just Around The Corner." Eric is a Yamaha-endorsed piano artist. The Eric Mintel Quartet features pianist and composer Eric Mintel, Nelson Hill on alto sax, Dave Mohn on drums, and Jack Hegyi on electric bass.For tickets, please click:
http://therrazzroom.com/events
(4) JULIUS CAESAR STAGED IN MODERN DRESS TO DEPICT SHAKESPEARE'S RELEVANCE EVENT: JULIUS CAESAR:
William Shakespeare's classic tragedy about the betrayal and assassination of Roman Emperor Julius Caesar takes to the Heritage Center stage in
Morrisville
for a three weekend run. Aaron Wexler directs this historic drama in a modern day setting, to highlight the timelessness of the Bard of Avon's work. This tale of politics, power, corruption, and intrigue stars Jim Ludovici as Brutus, John Pinto as Cassius, John Bergeron as Mark Antony and George Hartpence as Julius Caesar. Featuring (alphabetically) Jack Bathke, David Burr, Chris Capitolo, Matthew Cassidy, Greg Davis, Kyla Mostello Donnelly, Andrew James Gordon, John Helmke, Jeffrey Hufnagle, Timothy Kirk, Cat Miller, Maryalice Rubins-Topoleski and Carol Thompson. Produced by Maryalice Rubins-Topoleski and Stage Managed by Hayley Rubins-Topoleski. Set Design by Ken Junkins.
DATES:
April 25 – May 11, 2014
. (Nine performances over three weekends)
TIMES:  
Friday and Saturday at 8 p.m., Sunday at 2 p.m.
PLACE
: The Heritage Center Theatre, 635 North Delmorr Avenue (Route 32), Morrisville, PA – near the Calhoun Street Bridge.
ADMISSION: Special student rate $15 (with ID).
$20 for adults, $17 for seniors (62+), $15 for WHYY card members and $10 for children age 12 and under.
Group rates available for ten or more. 
(5)
Happy @ Work: 60 Simple Ways to StayEngaged and Be Successful 
Book Launch with
Jim Donovan
  Saturday, April 26th6:00 – 8:00pm
Even in a tight economy, job satisfaction shouldn't be considered a luxury; fulfilled, happy employees are productive, innovative, and loyal. And because employed Americans work more hours than those in most industrialized countries, workplace fulfillment spills over into families and communities. Jim Donovan, a small business owner, consultant, and speaker, has worked with employees and employers for 25 years. In that time he has tested and honed these shift-producing strategies. From managing time, making decisions, and marking milestones to breaking patterns, bouncing back, and becoming exceptional, each tip's method and rationale is clearly explained and illustrated by a real workplace vignette. Each tool empowers with the knowledge that no matter the circumstance, employees can think, act, and feel in ways that create purpose, success, and, yes, happiness.
 About the Author
Jim Donovan speaks regularly to employees and executives at small business and large corporations. He is a frequent media guest and expert source on personal development, business success, and the spiritual laws that develop both. He lives in Buckingham, PA.
---
All our in-store events are free and open to the public.   There is parking available in the lot behind the store and in the surrounding neighborhood.Click here for parking informationhttp://www.doylestownborough.net/visitors/parking.

If you can't come to an event and still want an autographed copy of the book, you may purchase titles in advance either in the store, over the phone (215.230.7610), or through our website.
When buying online, simply use the checkout comments field to indicate that you would like us to request the author's signature at our event before shipping it to you.
All event-related inquiries can be sent to our Director of Programming/Publicist, Krisy Paredes, atkrisyparedes@gmail.com
 Location: The Doylestown Bookshop, 16 S. Main St., Doyelstown, PA
(6)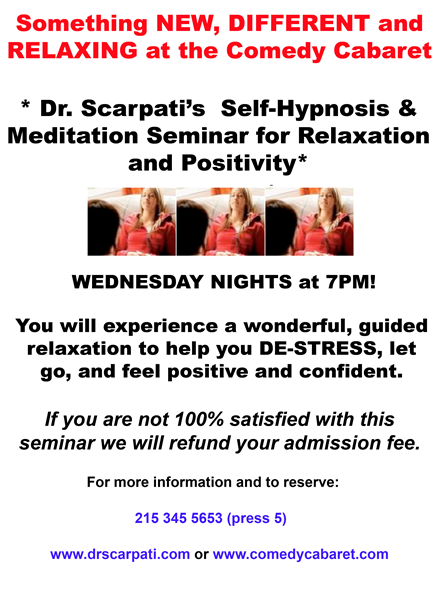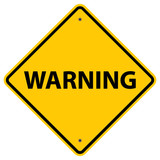 Warning!

Our New Self-Hypnosis & Meditation class will produce powerful feelings of relaxation, peace and tranquility that will have a positive impact on your life! You will learn how to tap into the power of your on mind and discover the true you! Make reservations at either of Dr. Scarpati's web sites http://drscarpati.com/#Seminars or http://www.comedycabaret.com/

SEE NEW COMMERCIAL FOR THE CLASS  https://www.youtube.com/watch?v=HuIpafWzhiYClick here for the time of your life comedycabaret.com/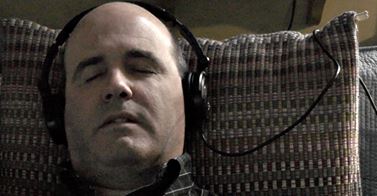 See News Reporter Andy Vinebereg (Bucks Currier Times and Intelligencer) Get hypnotized by Dr. Scarpati in this cool 90 second video. Please click Vineberg did a story in the Doctor's positive relaxing seminars on Wednesday Nights at Comedy Cabaret.Thank you :)P.S. Coming to South Jersey USA'S # COMEDY IMPROVISATION TEAM! And Coming to Bucks – from Jimmy Kimmel and his own Net Flicks Special TODD GLASS