Section 2, part 2
(1) Ingrid S. in PA: I did download Chrome after reading the newsletter. I love the tips that you have on them and the jokes are always a good laugh.
(2) Colleen D. in PA: Nice jokes. On a more serious note, I do hope my retirement is a joyful as your retirement.
(3) Sandy B. in PA: My friend Linda O and I both love MBB Cynthia's hair change she made recently – a straight look!  Soft and pretty pretty!
(4) Pat A. in PA: Many thanks to you once again, for your donation to Julie's trip to a Jamaican orphanage in March.  She has finished editing a highlights video, of her trip and of the other trips the college sponsors.  It's under 4 minutes – when you have time please take a look, and see the good that you helped to happen in the world.
(5) Joanne E. in PA: By the way, I too use Staples to help keep my computer up and running.  I was having quite a bit of issues and had exhausted Microsoft and Norton help.  I took it to Staples and they cleaned it up for $119.  They then told me to bring it in every six months and they will run the check for free.  I believe everyone should do this, as it saves time, energy, money, blood pressure, etc.
(6) Dan B. in PA: This is Norton's link to their page that tells you if a web site is affected by Heartbleed.
http://safeweb.norton.com/heartbleed
(7) Marcia W. in NC: Does anyone know of a two-bedroom rental in the Asheville area (ideally a small home)? I have a friend looking for one. Thanks for any leads!
Marcia: marciawhitney8@gmail.com
(8) Never give a boring presentation again
(9) Travel planning apps
(10) Tom G. in NJ: 
I'm looking for 50,000,000 likes…surely there must be that many Elvis fans …at least….
Note: Great song and video!
***************
Section 12A, NC events
(2) Randy Robins in NC: INVITATION
What:  UNCA's OLLI Comedy Show (hosted by Randy Robins)

When:  This Sunday (5/11) 7:30 PM (doors open at 7)

Where: UNCA Highsmith Student Union

 

Details:

Admission is free.

Parking is ample and free.

 

An RSVP, while not essential, would be appreciated.  PLEASE tell everyone you know.

 

I hope to see you there.

 

Randy

Added incentive:

If it's not the best show you've seen in 2014, we offer a double your money back guarantee.

(3) Marilynne H. in NC: As you know, Laurey Masteron was a very special friend of mine, sadly she passed away in February after a courageous battle with cancer.According to her sister, Heather, "The LIVESTRONG Program was a huge factor in Laurey's treatment cycle, her emotional and personal courage and perseverance was the great gift that she received from LIVESTRONG at the YMCA." The 12-week locally funded program led by staff specially trained in the physical and emotional needs of cancer survivors, is offered at no cost.As a way of giving-back, Laurey created the JOYride last year to help raise funds so that others could also benefit from this remarkable program.  Her goal was to fund 100 survivors to participate in LIVESTRONG at the YMCA.  Thanks to the $30,000 raised by last year's ride, in addition to some new funding partners that came out of the event, the program has been able to more than double in size, dramatically reducing the waitlist to participate.

What is the JOYride?

It's a family-friendly, Asheville area cycling event beginning at 12:30AM on May 17th at Carrier Park in the River Arts District.  Day of the event registration opens at 10:00 AM. Entry categories include:  "Fun" ride (for children) at the Carrier Park track led by Olympic Silver Medalist Lauren Tamayo.  Quarter century ride (25 miles), Half century (50 miles), and new this year, 125 km ride (approx. 77 miles) in honor of the 125th anniversary of the YMCA of North Carolina.  The event is for riders of all abilities and begins and ends at Carrier Park and follows along the scenic French Broad River.If you can't ride, come down and enjoy the fun anyway — there will be good food, music and more to celebrate the ride and survivors everywhere.  

Individuals and families are encouraged to participate, even if "InSpirit" through online donations to the JOYride.

For more details and form to register click on the following link:

http://www.ymcawnc.org/JOYride

I hope you will sign up for the ride or just come down and have some fun.  I plan to be there! 


Marilynne

Please feel free to share this message with anyone you think would enjoy participating.

(4) "The Storyteller's Fire" with internationally renowned storyteller David Novak – Tuesday, May 13th at 7:00 at the Weaverville Library – If you think you're familiar with classic myths, folktales and fairytales… think again. Don't miss David's thought provoking, winsome and multi-layered versions of some of the classic tales: Fairy Tales for Grown Ups! Sponsored by the Weaverville Library Friends. For more information call the Library at 250-6482.

(5)

A Natural Solution for ADD, ADHD, Dyslexia
and other learning problems.
You're invited to a free 45-minute talk about a method for alleviating symptoms of ADD/ADHD, Dyslexia & other learning difficulties without drugs or supplements. Learn how the brain processes information, and how problems can be permanently corrected in adults and children. Improve four major areas: Academics, Focus, Balance, and Emotions. If you would like to know how to help yourself or someone you love, come to this free talk.Tuesday, May 20, 2014, 6:30 p.m.
Earth Fare South, 1856 Hendersonville Rd, Asheville, NC
RSVP to Wes Beach 828-216-4444 or wes@wesbeach.com
Who should attend?

Parents with a child struggling in school.
Have you tried? • Yelling • Bribing • Tutoring • Getting Angry • Hours of Homework • Sweet-Talking • Yelling Louder
If grades are still low and attitude is getting worse. This information will help.
Adults that are struggling at home or work.
Improve • Memory • Focus • Self-confidence • Multi-tasking • Balance • Spelling • Reading Comprehension • Math • English
Employers.                                                                             As you know some of the best employees have a learning disability. They are usually very intelligent, creative and often very successful; however, they have one or two areas that consistently cause problems. Some of the problems they might have are remembering verbal instruction, writing numbers correctly, memory, focus, organization, reading, spelling, math or more. The cost of treatment is usually less than it would cost to replace the employee. You get to keep this great employee and they get to experience life in a whole new way.

Can't make it to the talk.
Call 828-216-4444
for a Free Assessment.

During the assessment I can give a better idea of how or if Brain Integration can help and also how many hours are needed to complete the desired result. This work is a relaxing non-invasive therapy that assesses and corrects learning difficulties in 8 to 16 hours with no drugs, surgery or exercise.

Learning Improvement Center, LLC
1293 Hendersonville Road, Suite 18
Asheville, NC 28803
828-216-4444
www.LearningImprovementCenter.com
wes@WesBeach.com
Note: I saw a preview production of the above and enjoyed it. You will, too!
(7) MAGIC AND MORE
HAVE FUN AND HELP OTHERS AT THE SAME TIME
IT WORKS LIKE MAGIC
The Vanishing Wheelchair Announces its 

2014 Magic Show Season
The Vanishing Wheelchair continues its monthly fundraiser shows at St. Mary's Church, 337 Charlotte Street, Asheville. "Magic, Mirth & Meaning" is a family-friendly production featuring the talents of people with disabilities and those who help them. Interactive performances begin at 6:30 p.m. followed by an inspirational stage show. Free to the public (donations appreciated).
. Visit 
www.VanishingWheelchair.org.
St. Mary's Episcopal Church, Asheville, NC
337 Charlotte St, Asheville, North Carolina 28801
(8) Tracey Johnston-Crum and Steph Hickling Beckman are both fantastic in STOP KISS, another winning production from The Different Strokes' Performing Arts Collective. Kudos, also, to the rest of the stellar cast: Lucia Del Vecchio, David Ely and Paul Gallaher. The show runs through May 17. For tickets, please click:
Note: I also saw this play. It was both powerful and well done.
(9) Leadership Asheville June 17
Buzz Breakfast: Entertaining Asheville
ASHEVILLE, NC
Doors at 7:30 AM, Show at 8:00 AM
$20.00
Leadership Asheville July 16th
Buzz Breakfast: Asheville's Young Innovators
ASHEVILLE, NC
Doors at 7:30 AM, Show at 8:00 AM
$20.00
Leadership Asheville August 12
Buzz Breakfast: Secrets to Enduring Businesses
ASHEVILLE, NC
For tickets, please click:
http://www.etix.com/ticket/online/venueSearch.jsp?venue_id=9891
(10) Pipapelli will be playing a string of gigs starting in May and June.
May 16th – Shovelhead Saloon in Black Mountain, 9PM
May 24th – Preservation Pub in Knoxville, TN 8-10PM
*********************
Section 12B, PA/NJ events
(1)  RHYTHM OF THE EARTH
SPRING 2014 SPIRITUAL HAPPENINGS

At The Centre for Vibrant Living – 331 E. State St., Kennett Square, PA 19348 (610) 444-8020

And at Cyndy's Home Studio – 155 Coopers Hawk Lane, Landenberg PA 19350 (610) 563-3918
www.RhythmOfTheEarth.com
610-563-3918 (Text)
Please Like Us on Facebook! http://www.facebook.com/pages/Rhythm-of-the-Earth/271608069609253
Hello Spirit Being! 
May's lessons under the Medicine Wheel of Life are about Illumination.  Understand who you are and what you bring to the circle of life.  Understand the magnificence of your light.  Know how special you are and how your community marvels at your unfolding.  Be the light you want to see in the world!
For a beautiful example of folks who are illuminating their light, don't miss Margit's Garden introduced in this newsletter! 
In Resonance and Love, Cyndy

CONSCIOUSNESS SHIFTING MEDICINE WHEEL DRUM CIRCLE
LANDENBERG – the 2nd Friday of every month from 7:00 pm – 9:30 pm, except May which will be the 3rd Friday
(5/16, 6/13, 7/11)

Come and experience a shift in consciousness and an integrated healing opportunity as we sit in the sweet sound of simple, sacred, and ancient drum rhythms.  All are welcome.  Absolutely no experience is needed.  Drums are available.

Energy Exchange $20.00 
GRANDMOTHER PATHWEAVER IS ON THE EAST COAST AND IS OFFERING PRIVATE READINGS
NEW CASTLE, DE – Thursday May 8 and Friday May 9, from 10:00 am – 4:00 pm
Grandmother Pathweaver is a Cherokee Métis Teacher, and internationally known psychic and lecturer.  She offers private Medicine Wheel Readings, a tool to help you live your life consciously, in connection with the elements, animals, plant beings and stone people of the Earth.
Tarot card readings are also available.
Energy Exchange is $55.00 for 1/2 hour and $95.00 for an hour.  Grandmother's apprentices will receive a discount.
For an appointment email Grandmother's sister Carol at carol.d.milliken@dupont.com orcarolfireheart@yahoo.com or call 302-328-2010
DRUM BIRTHING RETREAT – Make a Medicine Wheel frame drum in a sacred way with soulful people
May 24 at 10 am – May 25 at 5 pm
Because I had the flu, I postponed the April drum birthing to Memorial Day weekend and there are two spots available.  If you have been yearning to make your own drum give me a call.
INTRODUCTION TO CONSCIOUSNESS SHIFTING DRUMMING AND SOUND HEALING
June 18 from 7 pm – 9:30 pm
At the Centre for Vibrant Living
I invite you to stop…and listen.  I encourage you to attend…and listen.  I urge you to experience…AND LISTEN.  People today are on a tremendous spiritual search.  Behind this surging energy is a yearning to understand who we are and what our purpose is during our Earth Walk.  We long to live meaningful lives in harmonious rhythm with the sacred energies of the earth.  Consciousness-transforming practices such as rhythmic drumming, journey work and healing sounds can put us in touch with these energies. Frame drums will be provided, if you don't have one, and newcomers to this work are honored and welcomed. Come and experience:
·       The unity of a circle with a spiritual center, where trust is fostered
·       Simple drum rhythms for healing, balance and Earth connection
·       An understanding of how this process empowers us and our families
Healing sounds, meditation, sharing and simple, sacred dance movements

Energy Exchange:  A love donation of whatever you can afford.
(2)
THE MAN THAT LOVES TO TALK ABOUT SEX – MITCH FATEL SEE over 2 million hits CLICK HEREOVER 20 TIMES ON THE TONIGHT SHOW– MITCH FATEL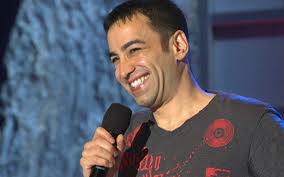 MITCH FATEL WILL BE IN BUCKS COUNTY PHILLY SAT. MAY 17th – Worth the drive no matter where you live!BUY TICKETS   http://comedycabaret.com/Also – During the week –  NEW SUCCESS WITH SELF-HYPNOSIS CLASS   HERE!